Free Mother's Day voucher template and Mother's Day gift certificates to print after you customize online. Create a personalized gift for free in under 2 minutes!

Create a free printable gift certificate for Mother's Day. You can either give a gift certificate to your mom or to the customers in your store. If you are using it for a business, you can add your company logo.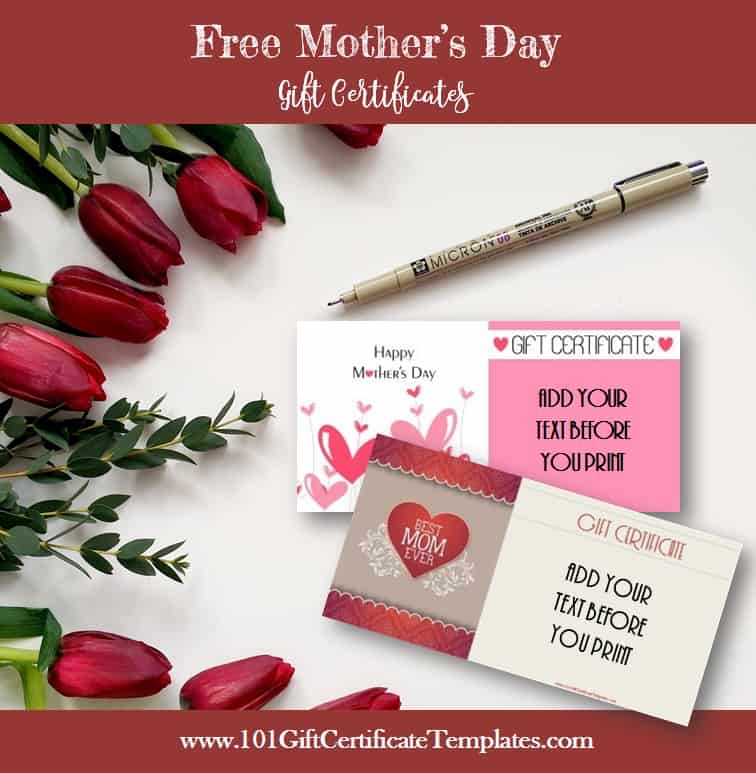 Edit the text online to create your own Mother's Day gift certificate with your custom text. You can use these free printable templates to create mother's day gift cards or gift certificates. You can also add Mother's Day quotes to the cards.
Some of the mom gift certificate templates have space for a photo. You can add a photo of yourself with your mom or you can add any photo from the gallery of millions of images.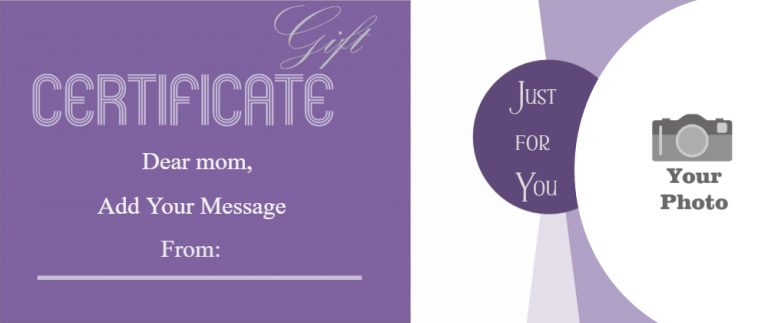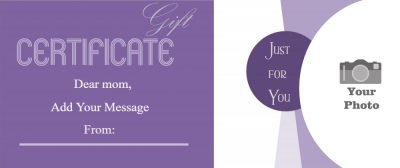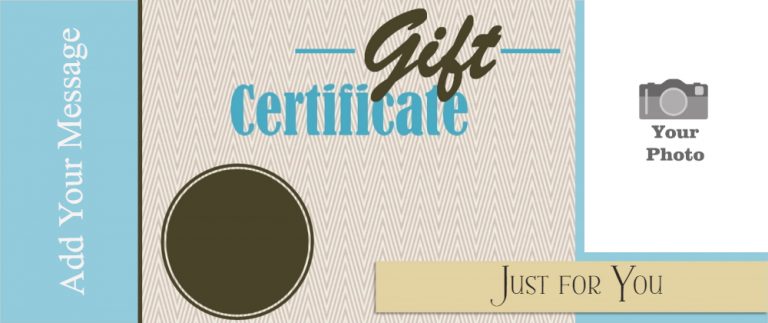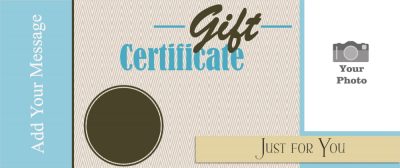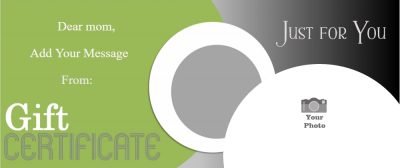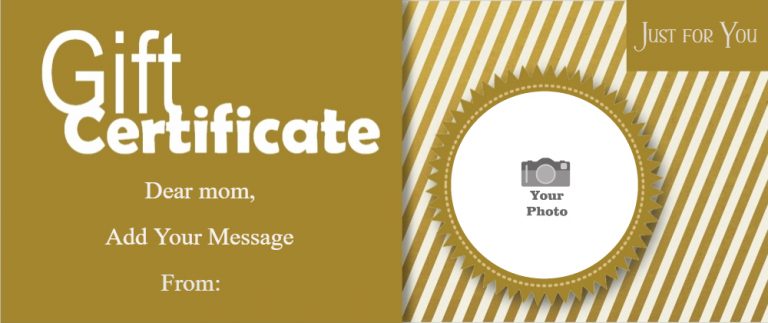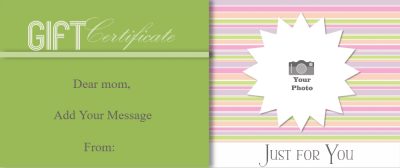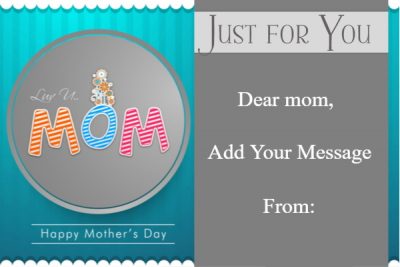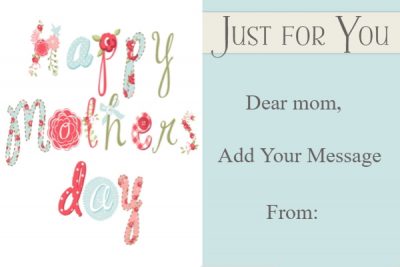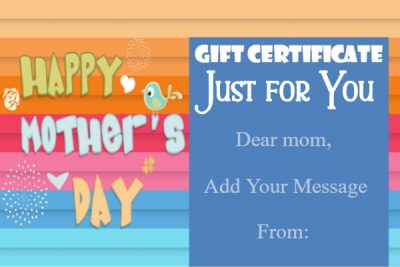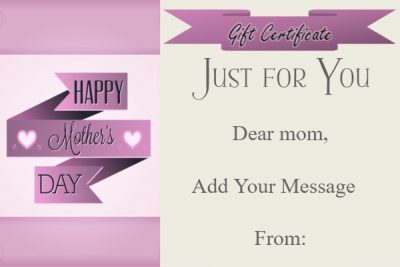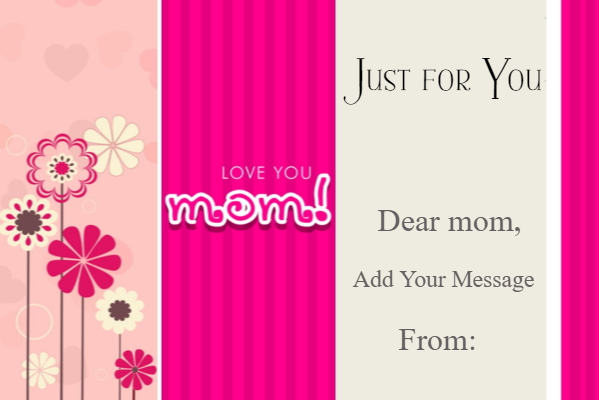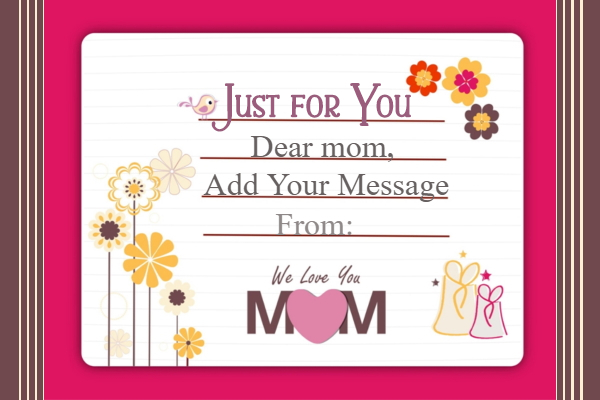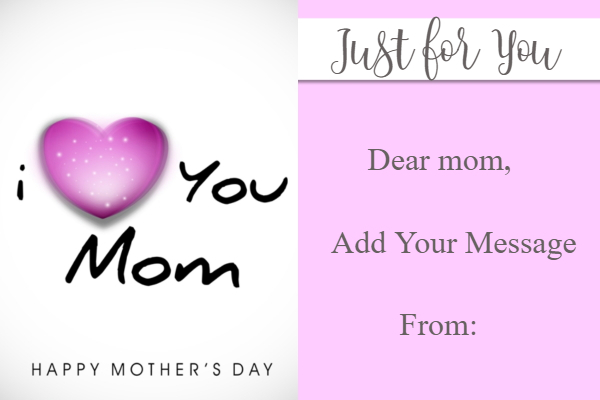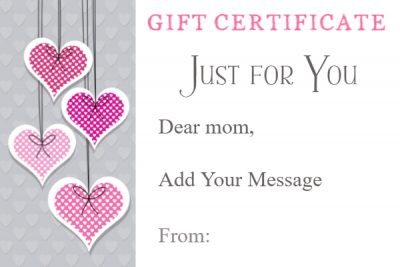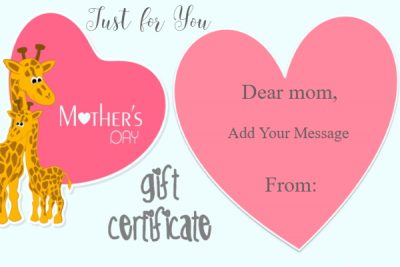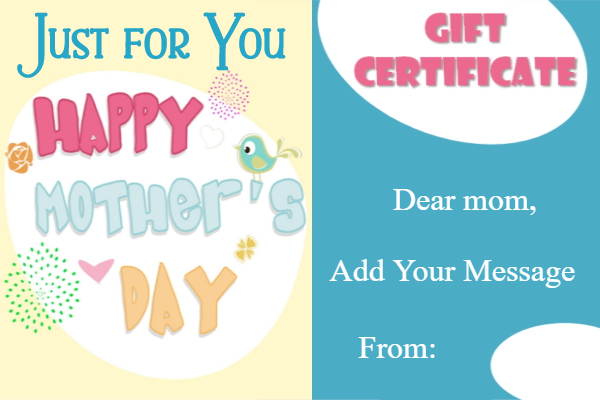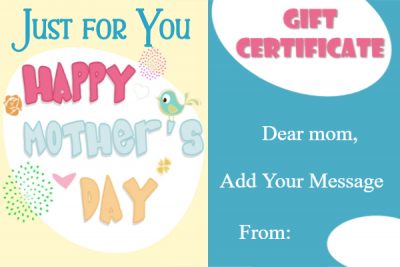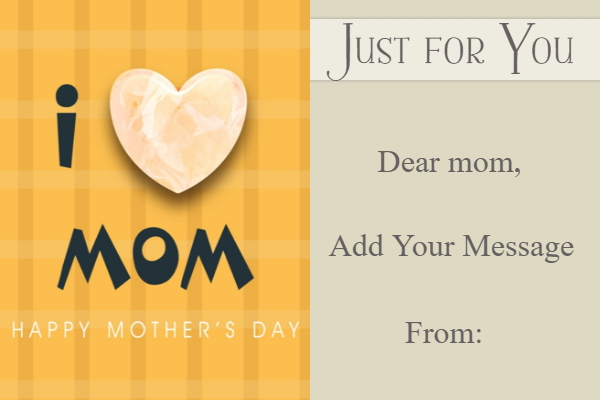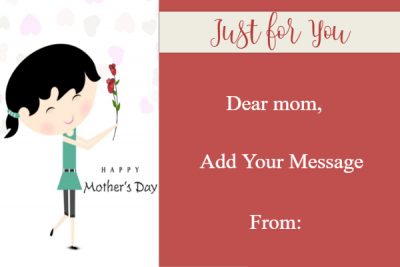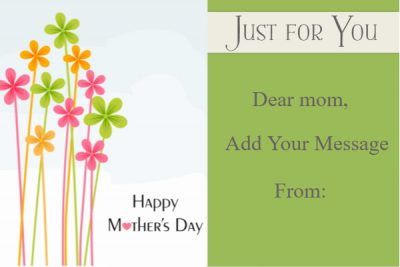 I often spend so much time looking for the perfect gift that I don't actually get around to getting anything. It's not that I didn't want to, it just didn't seem to happen. A gift certificate is a perfect solution when you find yourself looking for a last-minute gift. You can also buy something online to give together with the gift card. It works well with a subscription box or even with a gift purchased online that will be sent directly to your mom or simply didn't arrive on time. You can also give a gift card to your mom's favorite store. No matter if you add a gift or not, you can customize the gift certificate template accordingly. The text is editable and can be adapted to your needs.
Homemade gift certificates for mom are much appreciated. I always prefer when my boys make me something more than when they waste their money on me.
You can also use our app to create a Coupon Book for mom, Mother's Day coupon template or coupon book to create personalized coupons for Mother's Day.
How to Make a Mother's Day Gift Certificate?
The best gift certificates for mom are those that someone spent time making. Take a minute to customize the text and add a special message to your mom.
Click on any of the gift certificates to open the app.
Edit the text.
Add a photo (optional).
Download to your PC.
Print or send electronically.
If you want to give your mom a massage as a gift you might prefer to use the spa templates.
If you are not sure what to write on the card here are some ideas:
To the best mom in the world
Mother of the year award
Mom of the year award
World's best mom
If you are using the gift cards for a birthday, then Happy Birthday to the World's Best Mom
How to Create a Blank Mother's Day Gift Certificate Printable?
All templates have dummy text that you can edit. If you prefer to create a blank gift certificate then simply delete the dummy text. To deleted text, click on it and then on the trash can in the corner.
How to Create Christmas Gift Cards for Mom
You can also use the templates to create gift certificates for mom for Christmas.
Select any of the templates that do not say Happy Mother's Day.
Edit the text to add seasonal greetings.
Fun Ways to Spoil Your Mom on Mother's Day
Surprise her with breakfast in bed: Wake up early and prepare her favorite breakfast and deliver it to her bed with a lovely note.
Treat her to a spa day: Book a spa day for her and make sure she gets the pampering she deserves.
Write her a love letter: Write a heartfelt letter telling her how much you love and appreciate her. You can also decorate the letter with drawings or stickers.
Organize a movie night: Plan a movie night for your mom and let her pick the movies. You can also add some snacks and cozy blankets to make it more special.
Make a DIY gift: Get creative and make a handmade gift for your mom, such as a photo album, a scrapbook, or a personalized piece of jewelry.
Have a picnic: If the weather is nice, plan a picnic in a beautiful location with your mom's favorite foods and drinks.
Take her on a shopping spree: Treat your mom to a shopping spree at her favorite store, or surprise her with a gift card to her favorite boutique.
Cook her a fancy dinner: Plan a special dinner for your mom with her favorite dishes, set the table with nice tableware, and decorate the space with candles and flowers.
Create a scavenger hunt: Create a fun scavenger hunt for your mom with clues that lead to little surprises or treats along the way.
Plan a mini-vacation: Plan a short getaway for your mom to a nearby destination, whether it's a cozy cabin or a beachside resort.
Organize a karaoke night: Set up a karaoke machine or use a karaoke app and sing your mom's favorite songs together, or invite some of her friends over for a fun karaoke night.
Make a photo album: Create a photo album with your mom's favorite family photos and memories, or gather photos from her childhood and create a nostalgic album.
Create a home spa: Transform your home into a spa with candles, soothing music, and aromatherapy oils. Treat your mom to a relaxing massage, facial, or foot soak.
Host a game night: Plan a game night with your mom and play her favorite board games, card games, or video games.
The most important thing is to show your mom how much you love and appreciate her, so put some thought into whatever you decide to do, and make it special.