Free blank coupon template that you can customize online with our free coupon maker. Create homemade coupon books that don't look homemade!
You can customize the following coupon templates with our free online coupon maker. You can edit all text and add additional text or images such as a photo or logo. Once you have created them you can create a custom coupon book.
These are generic coupon templates but you can use them for any purpose such as friendship coupons. We also have love coupons, coupons for businesses or for special occasions such as birthdays, Mother's Day, Father's Day, Christmas, etc.
A homemade coupon template doesn't need to look homemade!
Select a DIY Coupon Template
Select a free coupon template from the selection below and then click on it to open the coupon maker. There are 6 coupons per page (letter 8.5 X 11″). You can either make them all the same color or mix and match the different colors and patterns.
If you want to save on ink, then print this blank coupon template on colored paper.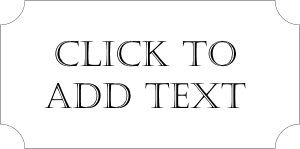 2. Edit Text
3. Download and/or Print
4. If you want to create a coupon book then cut out each coupon with the flap to the left. If not, then cut off the flap. Either tie the coupons together with a ribbon or make a coupon book cover.
---
Notes:
Each coupon template has a little flap on the left side. If you want to create a coupon book, then do not cut this flap off. You can then join all coupons together with a ribbon, or with a coupon book cover. Use our step-by-step instructions to create a free custom coupon book.
If you want to save on ink, then use the blank template and print it on colored paper.
If you want the homemade coupon book to look more impressive, then print on paper that is heavier than standard printing paper.
When deciding what to write on the coupons, use your imagination, and try to find fun gifts that the recipient will enjoy. You can either give free gifts such as a back rub or gifts that you will pay for when the coupon is redeemed such as dinner in a restaurant.
Giving someone a coupon is a perfect solution if you are not sure what to buy or if you don't know exactly what the recipient wants. You will still have a gift to give, but the actual purchase will be at a later stage. This also postpones the expense when money is tight.
---
Create Custom Coupons Easily
Whether you're a business owner looking to attract new customers or someone who wants to craft a personalized gift, our coupon templates are the perfect starting point. With a variety of designs and styles, you can create professional-looking coupons that appeal to all audiences. Our templates are easily editable, allowing you to add your own text, select colors, and even upload logos or images to make each coupon uniquely yours.
Step-by-Step Guide to Personalizing Your Coupon
Choose Your Template: Browse our extensive collection of coupon templates to find the one that suits your needs. We offer designs for holidays, special occasions, business promotions, and more.
Customize Your Text: Add the details of your offer or message. You can adjust the font size, style, and color to make your text stand out and clearly convey your message.
Upload Images or Logos: Personalize your coupon by uploading your own images or business logo. This adds a professional touch and can help increase brand recognition.
Fine-Tune the Design: Adjust the layout or add additional design elements like borders or backgrounds to enhance the visual appeal of your coupon.
Print or Share Online: Once your design is complete, you can print your coupons or share them digitally through email or social media platforms.
Ideas for Using Your Coupons
Promotional Offers: Drive sales and attract customers with discounts or special offers on your products or services.
Gift Certificates: Create a thoughtful and personalized gift for friends and family by offering a promise of your time or a special treat.
Event Tickets: Use coupons as unique tickets for an event or function, adding a creative twist to traditional admission methods.
Loyalty Rewards: Encourage repeat business by offering coupons as part of a loyalty program for your regular customers.
Tips for Effective Coupon Design
Clear Offer: Make sure your promotion or offer is clearly stated and easy to understand.
Expiration Date: Include an expiration date to create a sense of urgency and encourage quick use of the coupon.
Terms and Conditions: Clearly outline any restrictions or conditions to avoid confusion and maintain trust with your customers.
Trackable Codes: Use unique codes on your coupons to track their usage and measure the success of your campaign.
By following these guidelines, you can create coupons that not only look great but also serve as effective tools for marketing or gift-giving. Start designing now and see the difference a personalized coupon can make!