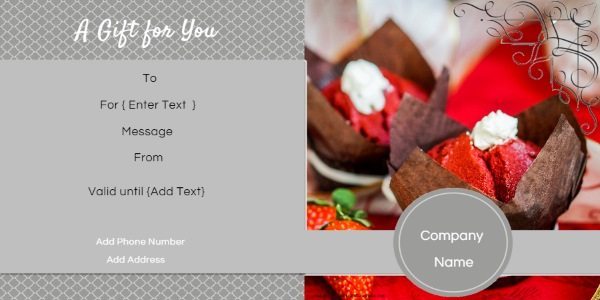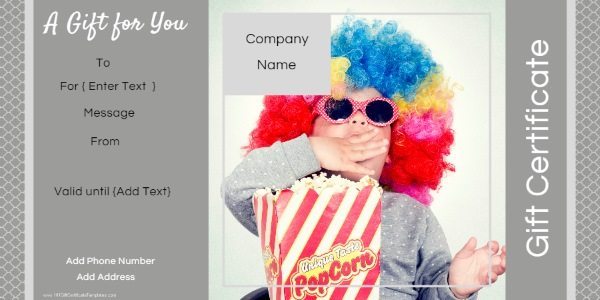 Capture Memories with Personalized Photo Gift Certificates
Memories are the timeless treasures of the heart, and what better way to cherish them than through photographs? With our photo gift certificate templates, you can give the gift of captured moments and preserved smiles. Perfect for photography enthusiasts or to mark special occasions, these certificates are a unique present that will keep on giving.
Snapshots of Happiness
Find the Perfect Frame: Choose from our collection of photo gift certificate templates, featuring designs that range from sleek and modern to whimsically vintage. Select a style that complements the occasion, be it a family shoot, a newborn's first photo, or a couple's anniversary session.
Personalize Your Present: Utilize our editing tools to add a personal touch to your gift certificate. Include the recipient's name, the type of photo session, and a heartfelt message that will make them look forward to their photo shoot.
Effortless Gifting: Design and deliver your photo gift certificate with ease. You can print it to pair with a photo album or send it digitally for those last-minute gifting needs.
Designing Your Photo Gift Certificate
Picture-Perfect Templates: Our templates are crafted to evoke the beauty and emotion that photographs capture. Select one that aligns with your vision and personalize it with your details.
Customizable for Any Occasion: Whether it's for a birthday, graduation, holiday, or just because, you can customize a photo gift certificate for any event.
Instant Keepsake: In a digital age, the value of printed photos has never been clearer. Your gift will become a cherished keepsake that stands the test of time.
Ideas for Photography Gift Certificates:
Family Portraits: Ideal for annual family photos, holidays, or reunions, giving the gift of professional photography is a perfect way to capture these moments.
Baby's Milestones: Offer a certificate for a newborn shoot or a first-year milestone package.
Engagement and Wedding Sessions: For couples planning to tie the knot, a certificate for an engagement or wedding photo session is a thoughtful and lasting gift.
Senior Year Memories: Provide a graduating senior with a professional photo shoot to commemorate their achievement.
Pet Photography: For the pet lovers, a session with a pet photographer can capture the personality of their furry friend.
Seasonal Sessions: "Gift a certificate for a seasonal photo shoot, capturing the vibrant colors of fall, the first snow of winter, or the blossoming scenery of spring."
Professional Headshots: "For the professional in your life, a session for sleek and polished headshots that make a great first impression."
Adventure Photography: "Ideal for the thrill-seeker, offer a photography session during an outdoor adventure, like hiking, surfing, or rock climbing."
Boudoir Photoshoot: "Provide a tasteful and empowering boudoir photo session, celebrating beauty and confidence."
Culinary Photography: "For the foodie or chef, a certificate for a session of professional culinary photography to showcase their creations."
Fashion Forward Shoot: "A stylish photo shoot for the fashionista, capturing them in the latest trends or their unique style."
Underwater Photography: "Gift a unique underwater photography session for swimmers or divers to capture the serene beauty of aquatic life."
Generational Portraits: "Offer the chance to capture a multi-generational photo, bringing together family members of all ages."
Maternity Moments: "A certificate for a maternity photo shoot to document the journey of expecting mothers."
Birthday Bash: "A fun and festive photo session tailored to birthday celebrations, complete with balloons, cake, and smiles."
Travel Documentation: "For the globetrotter, a session to document their travels in their hometown or during a vacation."
Holiday-Themed Shoots: "Festive photo sessions for holidays like Halloween, Christmas, or the Fourth of July, complete with themed props and settings."
Real Estate Photography: "For the homeowner, a professional shoot to beautifully document their home for posterity or listing purposes."
Drone Aerial Photography: "Offer a cutting-edge perspective with a certificate for drone photography, capturing landscapes or events from above."
Wildlife Safari: "A photography session in the wild, perfect for nature lovers wanting to capture wildlife in their natural habitat."
Our photo gift certificate templates make it simple to provide a thoughtful, personalized gift that invites your loved ones to create and preserve their precious moments. Start designing today and give a gift that will bring joy for years to come.
How to Edit the Gift Certificate Template:
How to Add a Photo to a Template
Select the template that you want to use.
Click on it to open the free gift certificate maker.
Click on "click to upload image" and select your image.
Drag the image to cover the entire area if you have some blank space showing. You might also need to drag the image to change its position.
How to Edit the Text
Double click on the text to edit it.
Either type your text or go to "font and styles" above and change the text there.
How to Download
Click on the cloud icon to download the gift card.
If you use a gift certificate template from this site on a website, then we request that you link back to this site.
How can a photographer use gift certificates to increase sales
Using gift certificates can be an effective strategy for photographers to increase sales and attract new clients. Here are some ways a photographer can use gift certificates to boost their business:
Gift Certificate Promotions: Offer special promotions or discounts on gift certificates, such as buy-one-get-one-free or a percentage off the face value. This encourages customers to purchase certificates as gifts for friends and family, increasing your customer base and potential bookings. For example, if you buy one photography session for yourself you can get a free session for a friend.
Targeted Marketing: Utilize targeted marketing campaigns to reach potential customers who may be interested in purchasing gift certificates. This can be done through online advertising, social media promotions, email newsletters, or collaborations with local businesses that can help promote your gift certificates.
Seasonal or Occasion-based Offers: Create themed gift certificates for specific seasons or occasions, such as holidays, birthdays, anniversaries, or Mother's and Father's Day. Tailor your promotions and imagery to match the event and highlight how your photography services can make a memorable gift.
Referral Programs: Encourage your existing clients to refer others by offering them gift certificates as rewards for successful referrals. This not only increases the chances of getting new customers but also generates additional sales from the gift certificate redemption.
Limited-Time Offers: Create a sense of urgency by offering limited-time discounts or promotions on gift certificates. This can motivate customers to make a purchase sooner rather than later, driving immediate sales and bookings.
Upselling and Add-ons: Provide options for customers to upgrade their gift certificates or add additional services or products. For example, offer premium packages, extended sessions, or print bundles at discounted rates when combined with the gift certificate purchase. This increases the overall sales value and encourages customers to spend more.
Collaboration with Local Businesses: Partner with other local businesses, such as wedding planners, event organizers, or boutique stores, to offer joint promotions or bundled packages. This expands your reach and allows you to tap into their customer base, increasing the likelihood of gift certificate sales.
Provide a Memorable Experience: Ensure that the gift certificate experience is seamless and professional. Design attractive and well-branded gift certificates that reflect your photography style. Additionally, offer exceptional customer service to those redeeming the certificates, providing a positive experience that encourages repeat business.
Remember to track the effectiveness of your gift certificate campaigns and make adjustments as needed. Regularly review and analyze your sales data to identify trends and refine your strategies to maximize your sales potential.