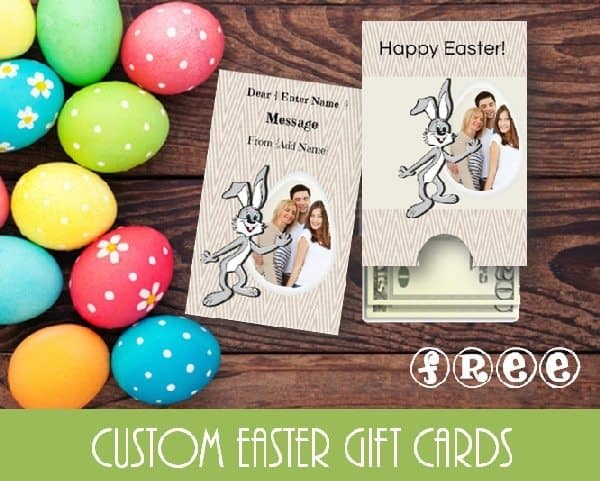 These DIY Easter gift card template with gift card holders make great Easter cards or gifts. It is the perfect solution to personalize a gift. You can insert money or a gift card into the custom envelope. These are five designs available with or without your photos. You can edit all of the text so you can write whatever you want.
Easter Countdown: 119 days, 5 hours, 59 minutes
Celebrate Spring with Personalized Easter Gift Cards
Easter marks a time of joy and renewal, and what better way to share the spirit of the season than with a personalized Easter gift card? Our templates offer a bouquet of designs that capture the freshness of spring and the warmth of this festive time.
The Joy of Personalized Gifting
A Basket of Choices: Our range of Easter templates lets you encapsulate the essence of the season. Choose from designs featuring Easter eggs, bunnies, spring flowers, and more.
Customization at Your Fingertips: With our user-friendly design tools, you can add personal greetings, recipient's name, and a special message to make your gift card as unique as the Easter celebration.
Instant Delivery: Need a last-minute Easter gift? Design and print your gift card at home or send it electronically to ensure it arrives right on time.
Crafting Your Easter Surprise
Step into Spring: Begin with selecting a template that reflects the vibrancy of Easter. Bright colors, pastel shades, and seasonal imagery will set the stage for your gift.
Add a Personal Touch: Personalize your gift card with the recipient's name and a message that conveys your Easter wishes. Our templates make it easy to express the sentiment of the holiday.
Gift of Experience: Why not fill your Easter gift card with promises of experiences to come? Think outside the chocolate box with ideas like a family day out, a craft workshop, or a gardening kit for spring planting.
Easter Gift Ideas to Inspire:
Gardening Goodies: For the green thumb in your life, offer a gift card for a local nursery or garden center.
Sweet Treats: Customize a gift card for a local bakery or confectionery shop known for its Easter delicacies.
Family Fun: Create a gift card for a family-friendly outing, like a zoo or museum visit, to enjoy when the Easter egg hunt is over.
Relax and Rejuvenate: Offer the gift of relaxation with a spa day or massage – a perfect way to unwind after the Easter festivities.
Creative Crafts: For the DIY enthusiast, a gift card to a craft store can provide the materials for their next creative project.
Easter Brunch Reservation: "A gift certificate for a special Easter brunch at a picturesque location, complete with all the springtime favorites."
Spring Wardrobe Refresh: "A shopping spree voucher to update their closet with bright and cheerful spring apparel."
Easter Cooking Class: "For the culinary curious, a gift card for a cooking class that specializes in Easter and springtime recipes."
Artisanal Chocolate Experience: "Indulge their sweet tooth with a certificate for a handcrafted chocolate-making workshop or tasting."
Easter Photography Session: "A gift voucher for a family photo shoot set against the backdrop of spring's blossoming scenery."
Picnic in the Park: "A ready-to-go picnic basket certificate for a delightful outdoor meal in the fresh spring air."
Bird Watching Kit: "For nature lovers, a gift card for bird watching essentials, including binoculars and a regional bird guide for spring migrations."
Seasonal Flower Arrangement: "A certificate for a floral arrangement workshop or a bouquet of fresh spring flowers delivered to their door."
Easter Parade or Event: "Tickets to a local Easter parade, fair, or spring festival for a day of community fun and celebration."
Bicycle Rental for Two: "A day-long bike rental voucher to explore local trails and enjoy the springtime bloom."
Butterfly Garden Visit: "A certificate for entry to a nearby butterfly conservatory to marvel at the beauty of spring's fluttering creatures."
Springtime Scavenger Hunt: "An organized scavenger hunt adventure that explores the local area's spring offerings."
Herbal Tea Collection: "A sampler pack certificate from a local tea shop featuring spring-inspired blends and herbal infusions."
Beginner's Pottery Class: "A creative outlet in the form of a pottery class gift card, perfect for crafting their own Easter-inspired ceramics."
Easter Book Selection: "For the avid reader, a gift certificate to a local bookstore for them to pick out the latest springtime reads or Easter-themed stories."
With our Custom Easter Gift Cards, you're not just giving a gift; you're extending an invitation to celebrate the joys of the season. So hop to it and create an Easter gift card that's sure to bring smiles and springtime cheer!