Free printable bakery gift certificate template that you can customize online. Tips on how to use gift certificates to promote your business.
Free Custom Gift Certificates for a bakery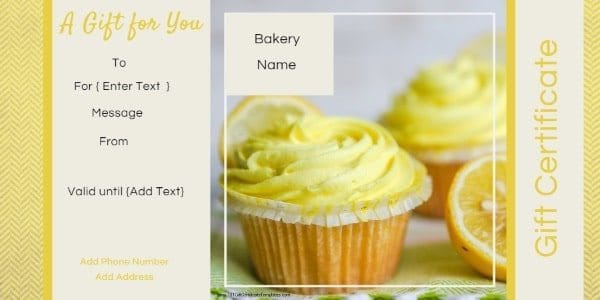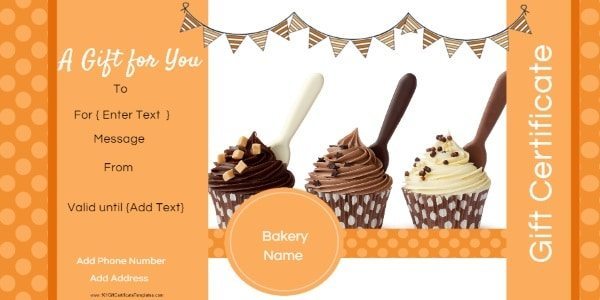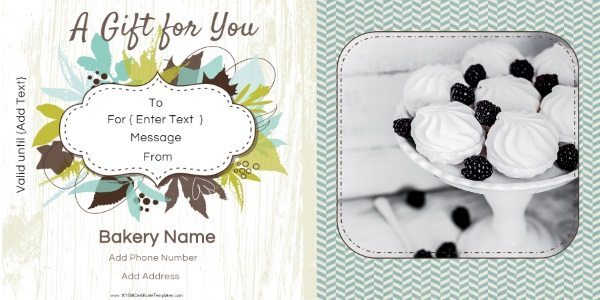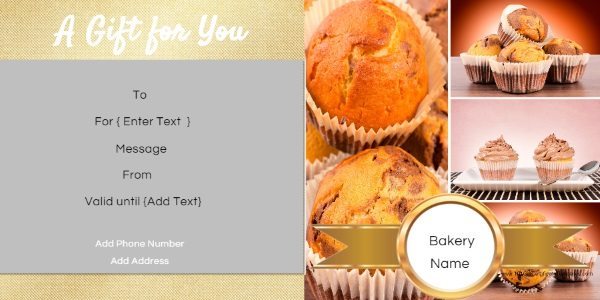 Cake gift cards – you can replace this photo with photos of your cakes.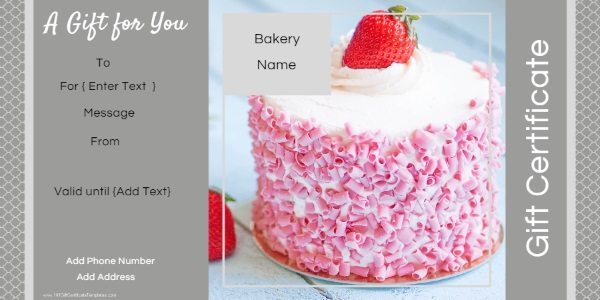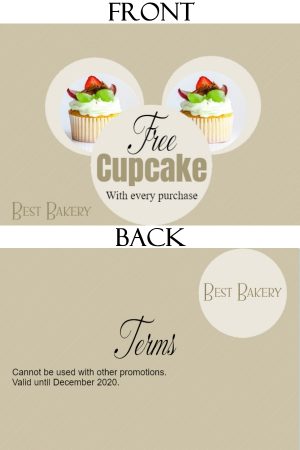 Gift certificates can be used to promote your bakery or related business (see tips below). You can either use the gift certificates above as-is (after you customize the text with our online gift certificate maker) or you can replace the photo with a photo of your products. All text can be customized so feel free to delete text or add your own. You can even use the gift cards as loyalty cards for a "buy 10 get 1 free" or similar program.
---
Sweeten Any Occasion with Bakery Gift Certificate Templates
Celebrate the joys of life with a taste of sweetness. Our bakery gift certificate templates are the perfect ingredient for a thoughtful gift that offers a sprinkle of joy and a dash of delight. Whether it's for a birthday, an anniversary, or simply to show you care, a gift certificate to a favorite bakery is a treat that everyone can appreciate.
Confectionery Creations
Choose a Delicious Design: Select from our assortment of bakery-themed templates that capture the essence of freshly baked goods. From rustic bread loaves to decadent pastries, our designs are as enticing as the treats they represent.
Personalize with Flavorful Flair: Customize your gift certificate with the recipient's name and a sweet message. Add the details of the gift, whether it's for a dozen cupcakes, a custom cake, or a mix of bakery delights.
Serve Up Instant Gratification: With the convenience of digital delivery, you can email the gift certificate directly to the recipient, or print it out for a personal hand-delivered gift.
Crafting Your Bakery Gift Certificate
Enticing Template Selection: Our collection features designs that evoke the warm, comforting atmosphere of a bakery. Pick one that suits the occasion and adds a personal touch with our easy-to-use editing tools.
Sweet Suggestions: Offer a specific item or let the recipient choose their favorite with a general voucher. From a set of macarons to a specialty cake, the possibilities are as varied as bakery offerings.
A Gift for Every Taste: Bakery gift certificates are perfect for anyone who appreciates the craft of baking, whether they're fans of savory bread, sweet treats, or both!
Bakery Gift Ideas to Pair with Your Certificate:
Custom Cake: Ideal for celebrations, a gift certificate for a custom cake lets the recipient choose their flavors and design.
Artisan Bread: For those who love a crusty loaf, offer a certificate for a selection of artisan bread.
Pastry Delights: Perfect for the sweet tooth, a voucher for pastries or a pie provides a delicious indulgence.
Cooking Class: Some bakeries offer classes, and a gift certificate for a baking class can be a fun and educational experience.
Coffee Companion: Pair the bakery certificate with a bag of gourmet coffee beans for the ultimate breakfast treat.
Dessert of the Month Club: "Give the gift of sweetness all year round with a certificate for a monthly delivery of the bakery's featured dessert."
Gluten-Free Goodies: "Cater to those with dietary restrictions by offering a voucher for a selection of gluten-free breads and treats."
Personalized Cookie Kit: "A certificate for a personalized cookie decorating kit, complete with all the ingredients and tools needed for a fun, at-home baking experience."
Celebration Cupcake Set: "Perfect for parties or special occasions, a gift voucher for a set of beautifully decorated cupcakes that can be customized to any theme."
Vegan Varieties: "For those following a plant-based diet, offer a certificate for a range of delicious vegan baked goods."
Afternoon Tea Package: "Provide a touch of elegance with a gift certificate for a classic afternoon tea selection, complete with scones, clotted cream, and jam."
Healthy Bakes: "A voucher for a selection of healthy and organic baked products for the health-conscious friend."
Bread Making Kit: "For the DIY enthusiast, a certificate for a complete bread making kit with ingredients and a recipe to bake their own loaf at home."
Chocolatier's Basket: "A decadent collection of chocolate-infused bakery items, from chocolate croissants to double chocolate cookies."
International Treats: "A culinary trip around the world with a certificate for an assortment of international pastries and baked goods."
Birthday Box: "A special birthday-themed box filled with a variety of baked treats, candles, and a mini celebration banner."
Baker's Basket: "A beautifully wrapped basket filled with a variety of the bakery's best-selling items."
Holiday Special: "A festive certificate for special holiday-themed baked goods, from Easter breads to Christmas stollen."
Savory Selection: "Not just sweets, offer a certificate for a range of savory baked items like quiches, pies, and gourmet stuffed breads."
Junior Baker Set: "Encourage the young ones with a certificate for a child-friendly baking set, complete with simple recipes and kid-sized utensils."
Our bakery gift certificate templates make it a piece of cake to design a delightful present that's guaranteed to please. Customize a gift today and share the sweetness!
---
How can gift certificates be used to promote your bakery or related business?
Gift certificates can be a valuable tool for bakeries to boost sales and attract new customers. Here are some effective ways to use gift certificates for sales growth:
Increase sales: You can give customers who spend a certain amount a gift certificate to be redeemed in the future. Chances are that if they come in to get their free muffins or rolls they will purchase additional products. Moreover, a happy customer is more likely to recommend your bakery to friends and family.
Encourage repeat purchases: Gift certificates can also be used to encourage customers to keep coming back. If you have any loyalty programs for members keep a record of their birthdays. A week before their birthday send out a personalized gift certificate for a free gift. Don't forget to include a short birthday wish. It can be difficult for a small business to compete with a huge company but these are the small gestures that can be made by small businesses as opposed to large companies. A large company might have thousands of gift certificates printed but rarely customize each one to each customer. It only takes less than a minute to prepare but that personalized touch makes all the difference.
Compensation: have you ever been less than satisfied with your baked products? Chances are your customers will notice this too. You can give a gift certificate for compensation to ensure that you keep the customer satisfied and loyal.
Bring a friend: a great way to get new customers is to give a happy customer a gift certificate to give a friend. The gift certificate can be for a free muffin for example. Your customer will be happy to give a friend a gift that didn't cost anything and the friend will have an opportunity to try your products and hopefully eventually become a loyal customer.
Gift Certificate Promotions: Offer promotions and discounts on gift certificates to entice customers to purchase them. For example, provide a percentage off the face value, offer a buy-one-get-one deal, or provide a free item with the purchase of a gift certificate. These incentives can encourage customers to buy certificates for themselves or as gifts.
Seasonal and Holiday Offers: Create themed gift certificates for specific seasons or holidays, such as Christmas, Valentine's Day, or Easter. Customize the design and include festive elements to make them attractive and suitable for gifting during those occasions.
Targeted Marketing: Utilize targeted marketing strategies to reach potential customers who may be interested in purchasing bakery gift certificates. Use social media advertising, email campaigns, collaborations with local businesses, or even influencer partnerships to promote your gift certificates effectively.
Collaborate with Local Businesses: Partner with other local businesses, such as coffee shops, florists, or gift stores, to create joint promotions or bundled packages. For example, offer a bakery gift certificate along with a coffee voucher or a bouquet of flowers. This cross-promotion can increase exposure and attract new customers.
Customization Options: Allow customers to customize their gift certificates. Offer options for the denomination, design, or personalized messages. This gives customers the freedom to tailor the gift certificates to their preferences, making them more appealing as thoughtful gifts.
Corporate and Bulk Sales: Target corporate clients or those looking to make bulk purchases. Promote the use of gift certificates for employee rewards, client appreciation, or corporate gifting. Offer special discounts or packages for large orders to encourage bulk sales.
Upselling and Add-on Items: Encourage customers to purchase additional items along with the gift certificates. For example, offer a discounted bundle that includes a gift certificate and a box of assorted pastries or a special occasion cake. This increases the average transaction value and introduces customers to more of your bakery offerings.
Gift Certificate Displays: Create attractive displays for your gift certificates at the bakery counter or on your website. Use enticing visuals, showcase the different denominations or package options available, and ensure that they are easily visible and accessible to customers.
Redemption Process and Follow-up: Ensure a seamless and convenient redemption process for customers who use the gift certificates. Train your staff to handle gift certificate redemptions smoothly and provide exceptional customer service. Follow up with customers after their visit to gather feedback and encourage repeat visits.
Regularly evaluate the effectiveness of your gift certificate campaigns by tracking sales and customer feedback. Adjust your strategies as needed to optimize your sales potential and continue attracting new customers to your bakery.