How Many Days until Father's Day?
Free Printable Father's Day Gift Cards
Let dad know how special he is with these free printable Father's Day gift cards. Each gift certificate template can be customized online before you print it. There are 24 Father's Day templates available. Click on any template to open the gift certificate maker.
Homemade gift certificates for dad are the perfect solution for kids who want to show dad how much he means to them but don't have any money to buy a gift. You can also make a coupon book for dad (see below).
Happy Father's Day
These templates read "Happy Father's Day."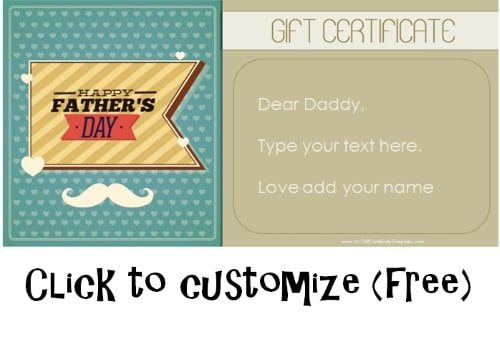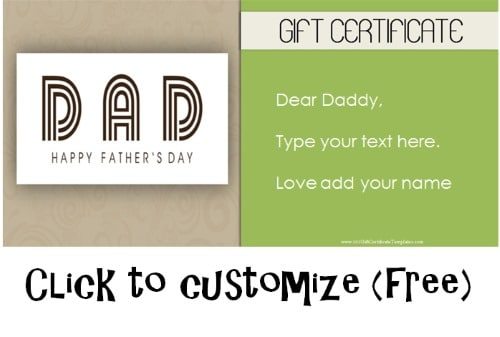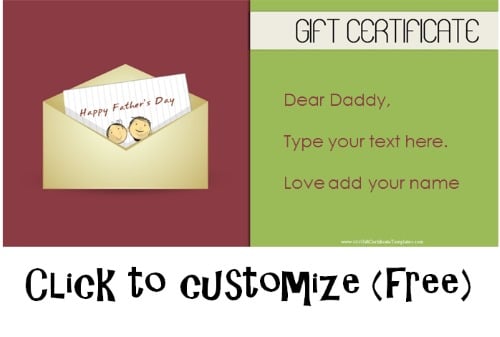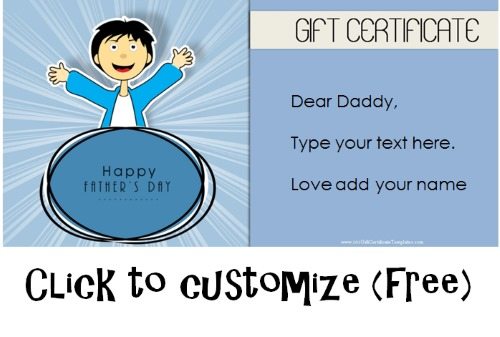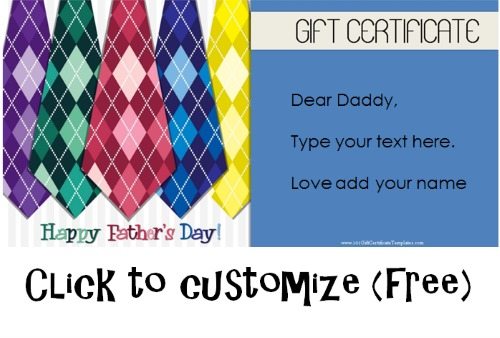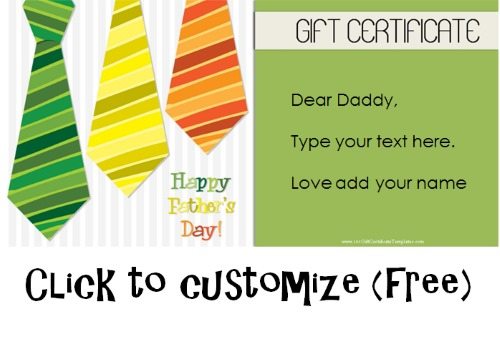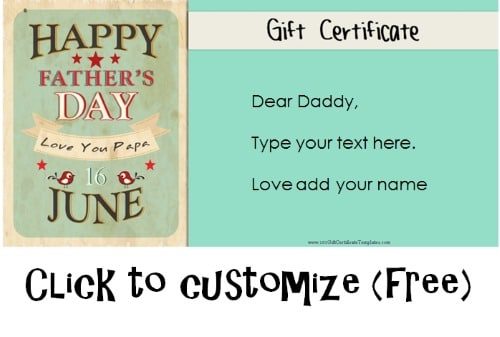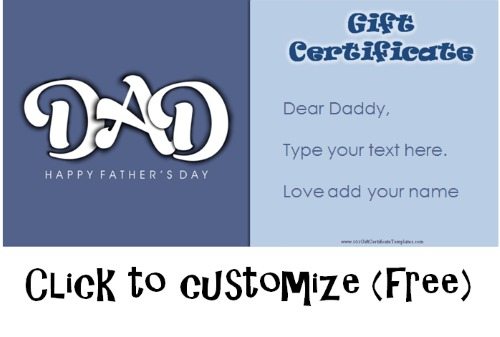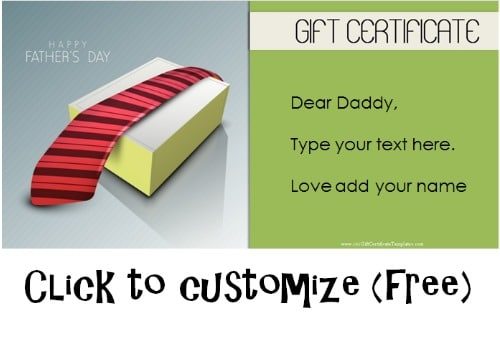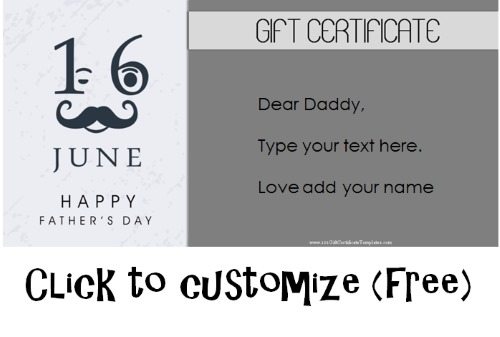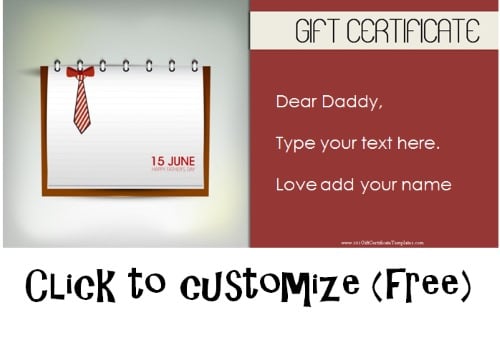 No 1 Dad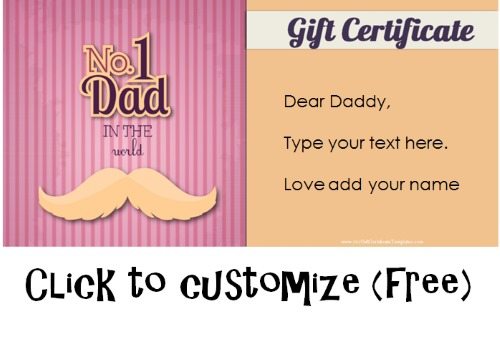 Best Dad Ever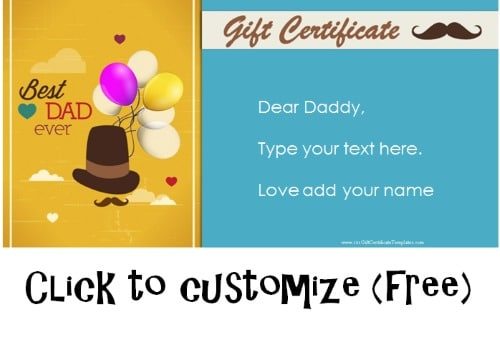 Happy Father's Day to my wonderful and charming dad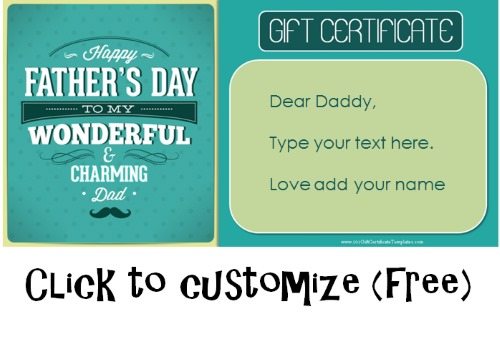 100% Pure Super Dad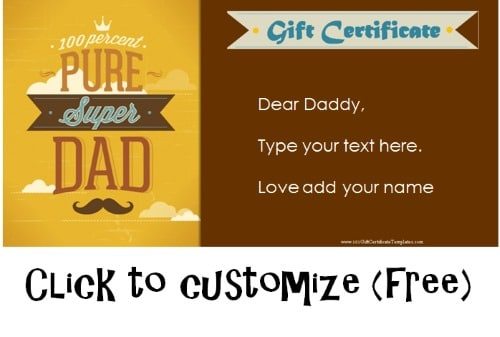 Have a Very Happy Father's Day
For Being My Dad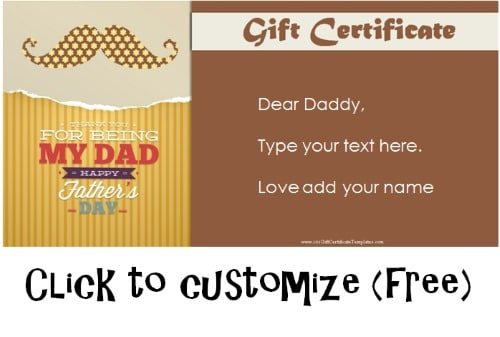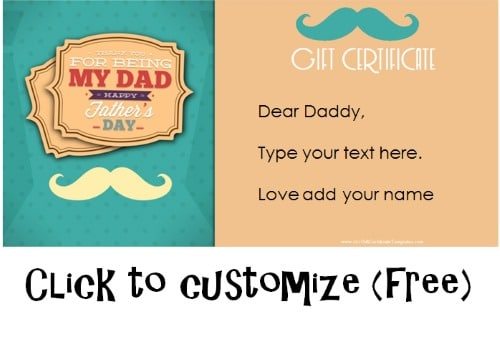 Father's Day Coupons
Create a Father's Day coupon book. You can also make it for your dad's birthday or a DIY Christmas gift. Think of things that your dad will like and add one to each coupon. Cut out each coupon. Print a coupon book cover and make a coupon book for dad. He'll love it! Here are some sample coupons. You can edit the text to change the gift options. See more coupon ideas for dad below.
To create blank Father's Day coupons delete the dummy text. To delete text, click on the text and click on the trash can on the bottom left corner. Click here to create a coupon book cover. See instructions on how to make a DIY coupon book if you are not sure how to cut the coupons and insert them into the cover.
Father's Day Coupon Ideas
Here are some coupon ideas for dad. Add one idea per coupon.
Breakfast in bed
Car wash
Let dad sleep in
Mow the lawn
Hug
Take trash out
Sleep in
Go camping
Backrub
Weed the garden
1-hour quiet time
Cold beer
Father's Day Gift Ideas
You can use these gift cards to give your dad a gift that doesn't cost you anything but will be very meaningful to dad. For example, a car wash, take out the garbage for one month instead of dad (it is it his chore), breakfast in bed, etc.