Best Father's Day gift certificates you can customize online. Select any gift certificate template for dad and customize it with our free online designer.

Free Printable Father's Day Gift Cards
Let dad know how special he is with these free printable Father's Day gift cards. You can customize each gift certificate template online before you print it. There are 24 Father's Day templates available. Click on any template to open the gift certificate maker. You can add Father's Day Quotes to the cards.
Homemade gift certificates for dads are the perfect solution for kids who want to show dad how much he means to them but don't have any money to buy a gift. You can also make a coupon book for dad.
Happy Father's Day
These templates read "Happy Father's Day."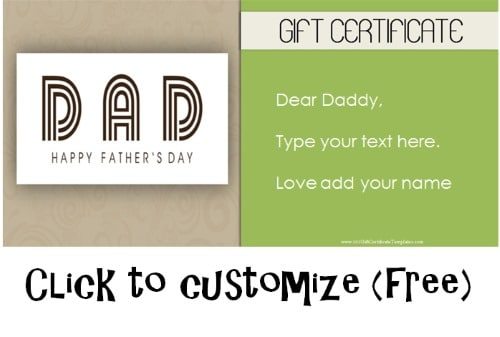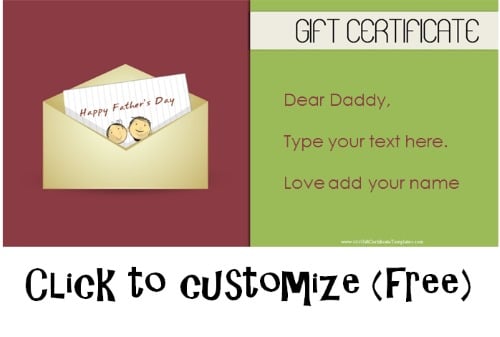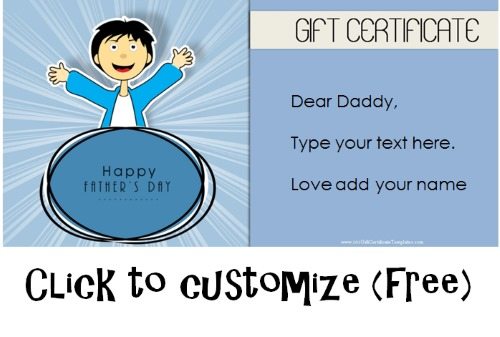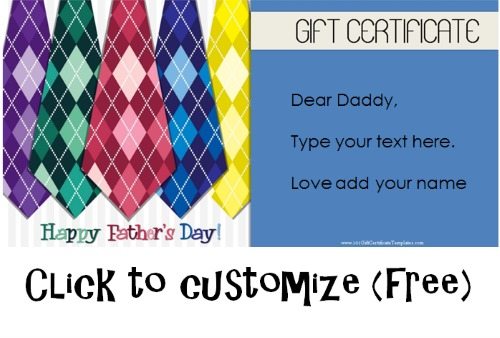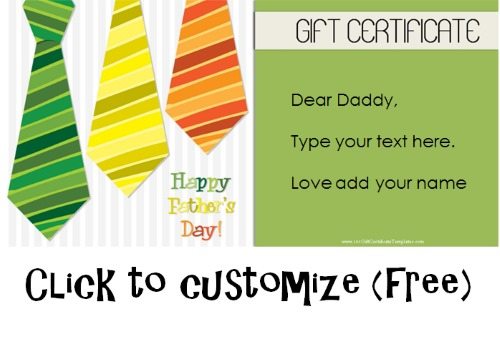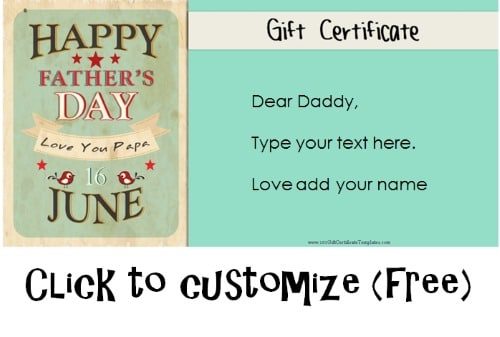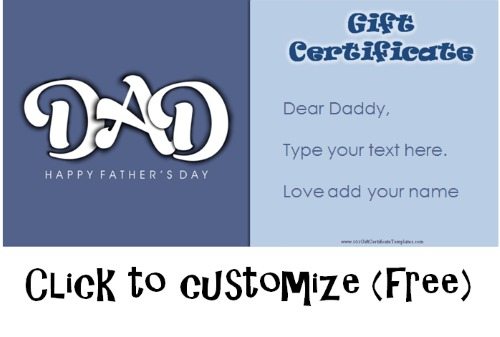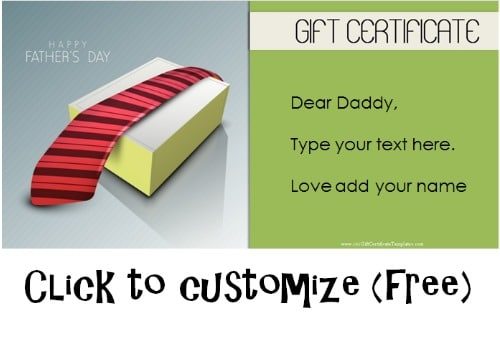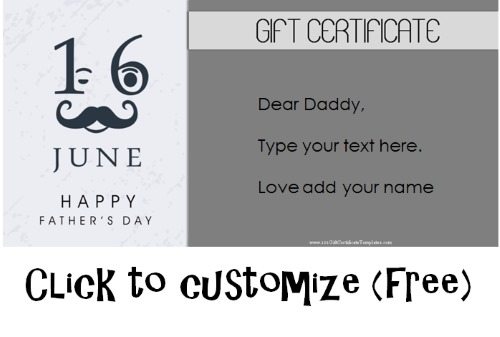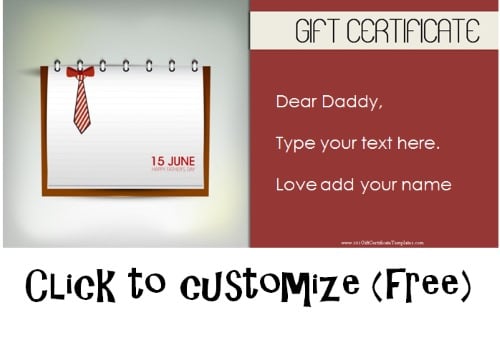 No 1 Dad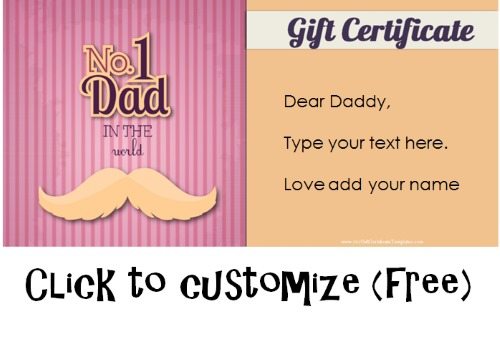 Best Dad Ever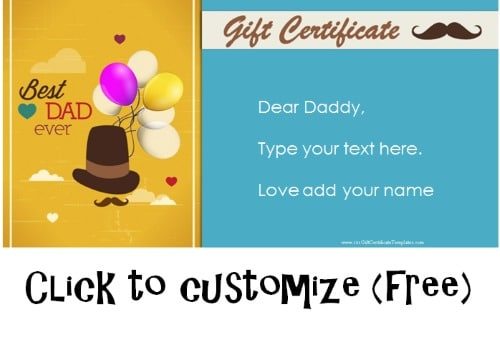 Happy Father's Day to my wonderful and charming dad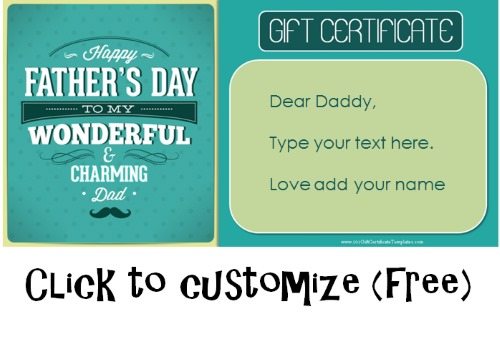 100% Pure Super Dad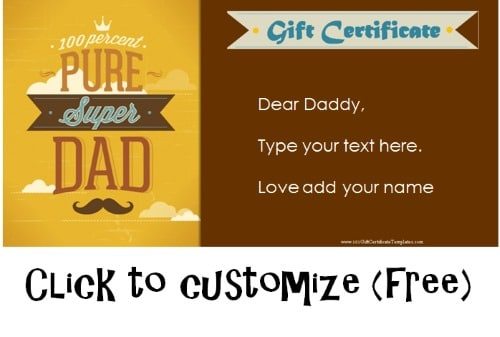 Have a Very Happy Father's Day
For Being My Dad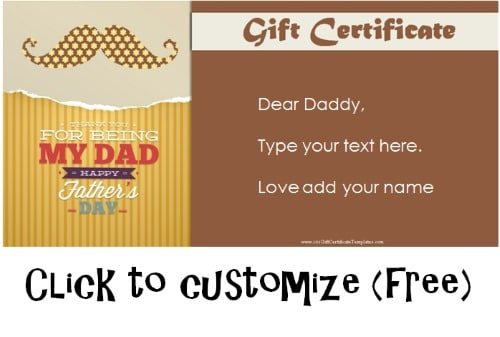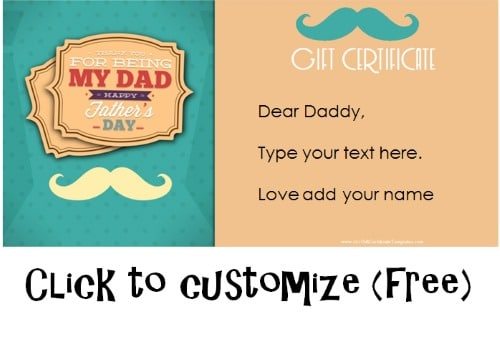 If you are not sure what to write on the card here are some ideas:
To the best dad in the world
Father of the year award
Dad of the year award
World's best dad
If you are using the gift cards for a birthday then Happy Birthday to the World's Best Dad
Fun and Free Father's Day Gift Ideas
Most of the following gift ideas for Dad won't cost anything (or not much). Simple father's day gift ideas are often more touching than those that cost a lot of money.
Cook him a special meal: Surprise your dad by cooking his favorite meal or grilling his favorite BBQ dishes.
Take him on a fishing or camping trip: Plan a camping or fishing trip with your dad, or take him on a hike or bike ride in a nearby park or nature reserve.
Buy him tickets to a sporting event: Get tickets for your dad to see his favorite sports team play, or take him to a game and enjoy the experience together.
Organize a movie marathon: Plan a movie marathon for your dad with his favorite movies, or introduce him to some new films that you think he'll enjoy.
Get him a personalized gift: Get your dad a personalized gift such as a mug with his name or a custom-made t-shirt with a picture of his favorite sports team.
Play a round of golf: Take your dad out for a round of golf at his favorite course, or try a new course together.
Have a game night: Plan a game night with your dad and play his favorite board games, card games, or video games.
Give him a day of relaxation: Treat your dad to a day of relaxation with a massage or a day at the spa.
Take him on a brewery or winery tour: Plan a brewery or winery tour with your dad and enjoy some tasty drinks together.
Get him a new gadget: Surprise your dad with a new gadget, such as a smartwatch, a tablet, or a virtual assistant device.
Wash his car: Surprise your dad by washing his car for him, or taking it to a car wash and getting it washed for him. You can also add some extra touches like placing a scented air freshener or leaving a thank you note on the dashboard.
Do his chores: Offer to do your dad's household chores for the day, such as mowing the lawn, cleaning the garage, doing the laundry, or washing the dishes. This will give your dad a break from his routine and show him that you appreciate his hard work.
Remember, the most important thing is to show your dad how much you love and appreciate him. So, put some thought into whatever you decide to do, and make it special.
Serve him breakfast in bed: Wake up early and prepare a delicious breakfast for your dad, such as pancakes, waffles, bacon, or eggs, and serve it to him in bed. You can also add some fresh fruits, juice, or coffee to make it a complete breakfast.
Give him some quiet time: If your dad is the type who likes to relax and unwind, consider giving him some quiet time to read a book, take a nap, or just enjoy some peaceful moments. You can create a quiet space for him in the house, or take him to a quiet park or garden where he can relax and recharge.
Make a coupon book for him: Create a personalized coupon book for your dad with coupons that he can redeem throughout the year. The coupons can be for things like a home-cooked meal, a car wash, a movie night, a game night, or anything else that your dad would enjoy. You can make the coupons using craft paper and decorate them with markers or stickers. We offer a free coupon book for dad with all the things he loves.
Make a poster for him with Father's Day quotes: Create a custom-made poster for your dad with quotes about fatherhood and what he means to you. You can use colorful markers or pens to write the quotes on a large piece of poster board or cardstock, or you can print out some quotes and create a collage. Your dad can hang the poster in his office or somewhere else in the house where he can see it every day and feel appreciated. Here are some Father's Day quotes.that you can use.
Remember, the key is to think about what your dad would enjoy and tailor your plans to his interests and preferences. Have fun and enjoy spoiling your dad on Father's Day!