Free Printable Father's Day Gift Cards
Let dad know how special he is with these free printable Father's Day gift cards. You can customize each gift certificate template online before you print it. There are 24 Father's Day templates available. Click on any template to open the gift certificate maker. You can add Father's Day Quotes to the cards.
Homemade gift certificates for dads are the perfect solution for kids who want to show dad how much he means to them but don't have any money to buy a gift. You can also make a coupon book for dad.
Happy Father's Day
These templates read "Happy Father's Day."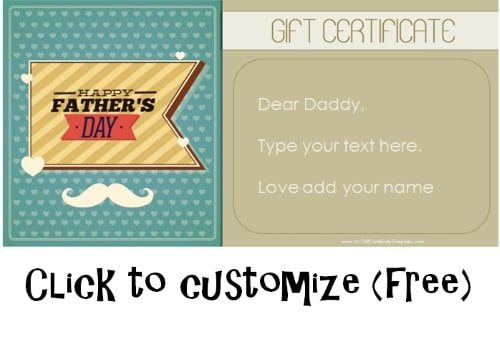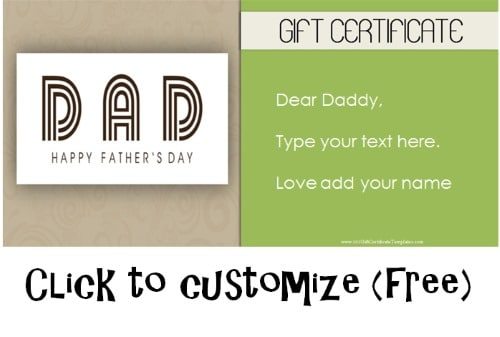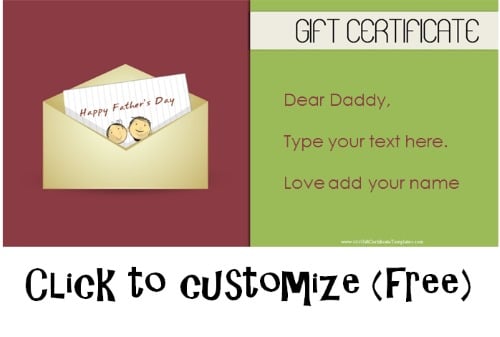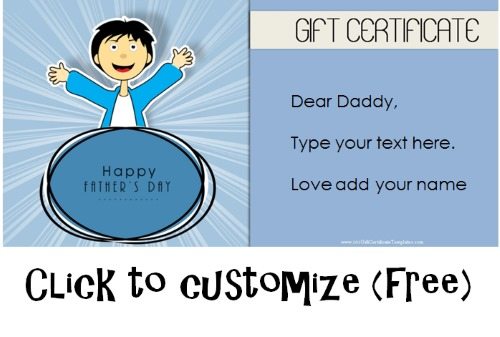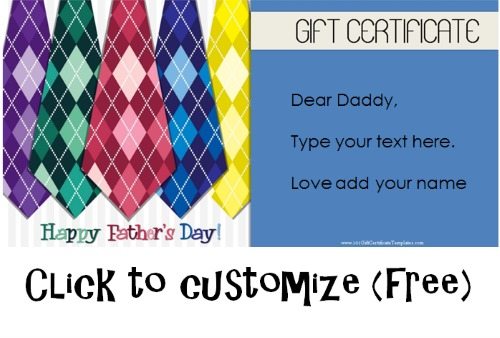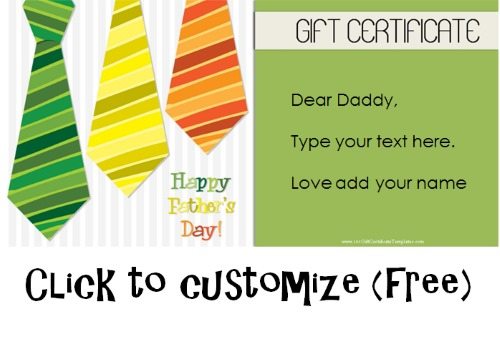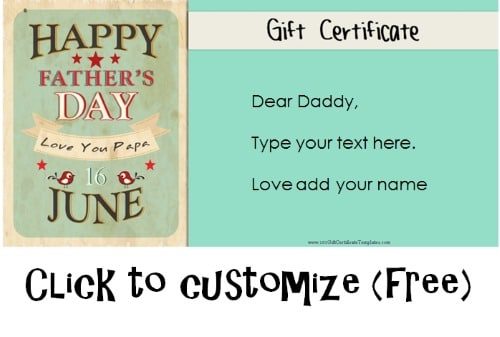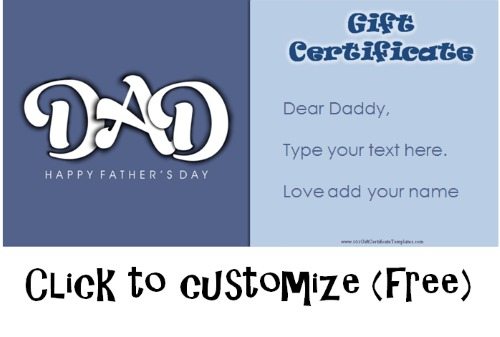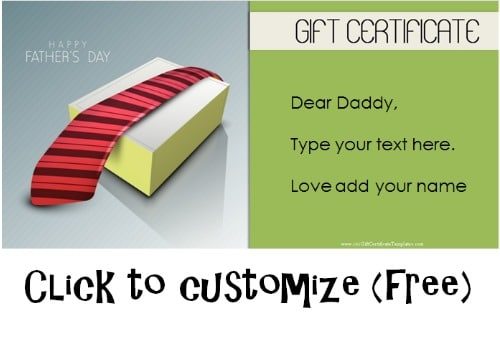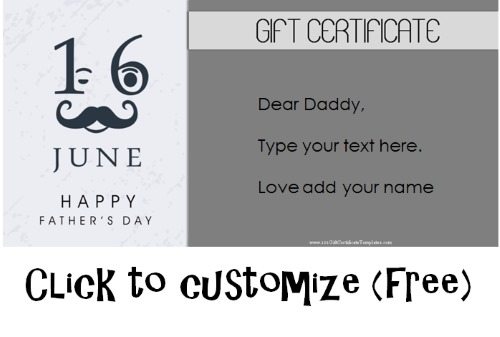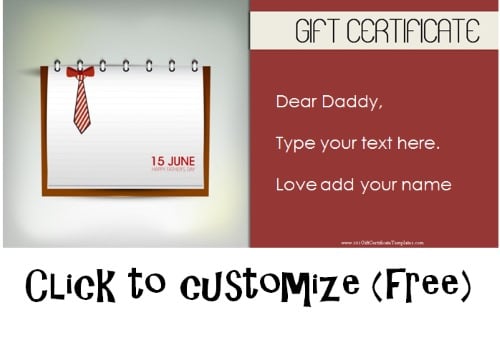 No 1 Dad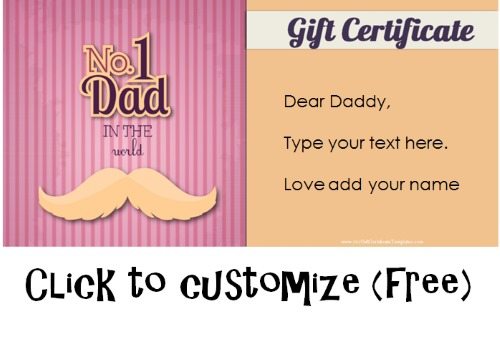 Best Dad Ever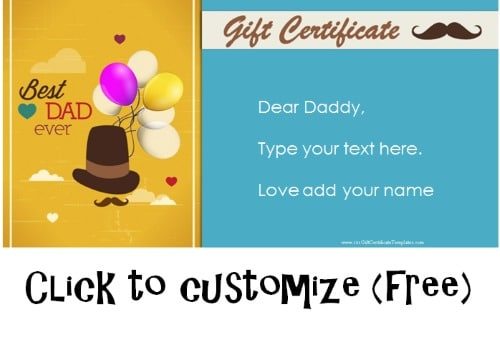 Happy Father's Day to my wonderful and charming dad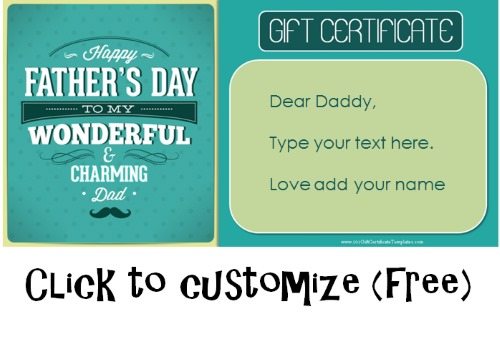 100% Pure Super Dad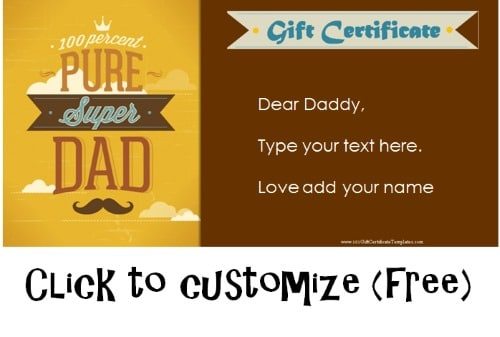 Have a Very Happy Father's Day
For Being My Dad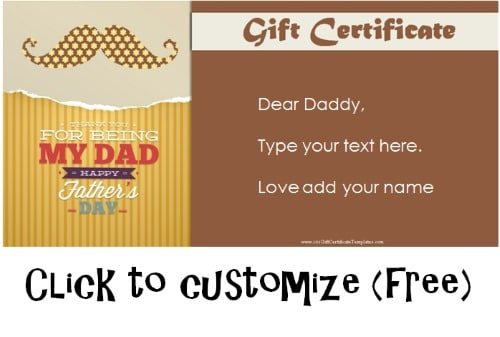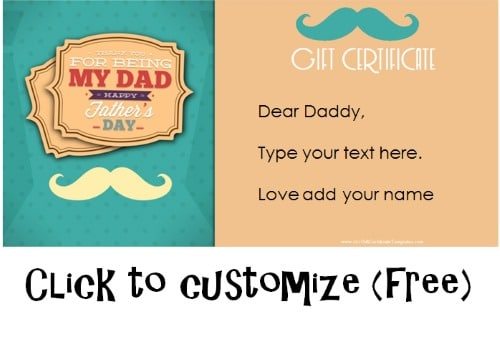 If you are not sure what to write on the card here are some ideas:
To the best dad in the world
Father of the year award
Dad of the year award
World's best dad
If you are using the gift cards for a birthday then Happy Birthday to the World's Best Dad
Free Father's Day Gift Ideas
The following gift ideas for Dad won't cost anything (or not much). Simple father's day gift ideas are often more touching than those that cost a lot of money.
Movie Night
Put a good movie on for dad. Make him popcorn and bring him a drink or beer.
Breakfast in Bed
Make dad's favorite breakfast and serve it to him in bed.
Car Wash
Wash dad's car inside and out.
Photos of Kids
Make a collage by collecting photos that dad would love and putting them on cardstock or in a frame.
Chores
Do dad's chores on Father's day.
Quiet Time
Give dad a quiet time voucher that he can redeem when he wants so peace and quiet.
Romantic Dinner
Make a nice dinner for dad on father's day. Make his favorite food and dessert.
Coupon book
Make a free coupon book for dad with all the things he loves.
Poster
Make a poster for dad with one of these Father's Day quotes.