Free business gift certificate template with a logo that you can customize online for free with our gift certificate maker.
The following gift certificates are perfect for businesses use since you can add your company logo and details such as your website, address, telephone, etc. You can add any additional text, and you can also delete existing text. There are 20 designs available, and we also have templates for specific businesses such as a spa, photographer, hair salon, bakery, and a nail salon.
To add your company logo click on "logo" and upload your logo. Click on the text to customize it. You can also move elements around or make them bigger or smaller if you want to make any changes.
DIY Gift Certificate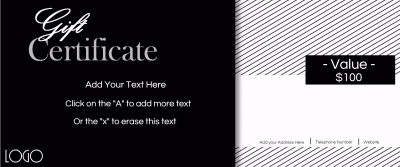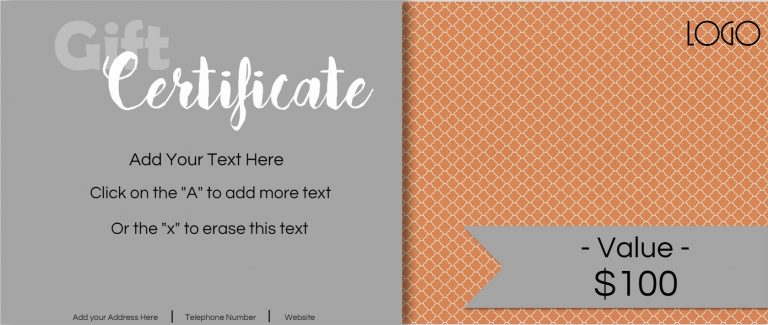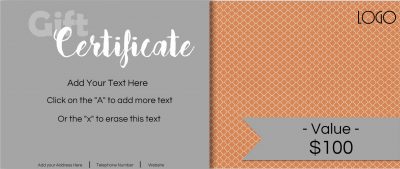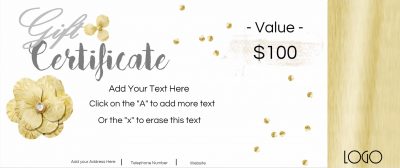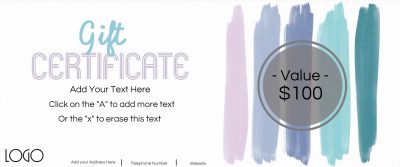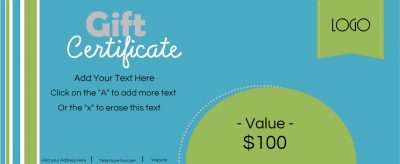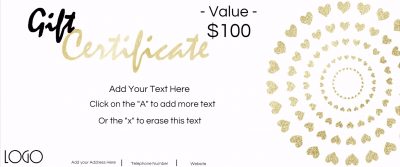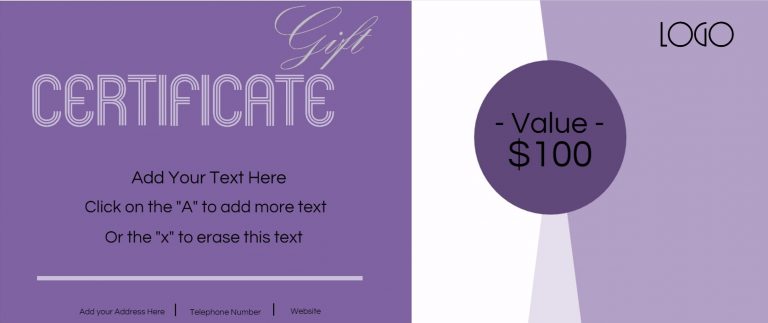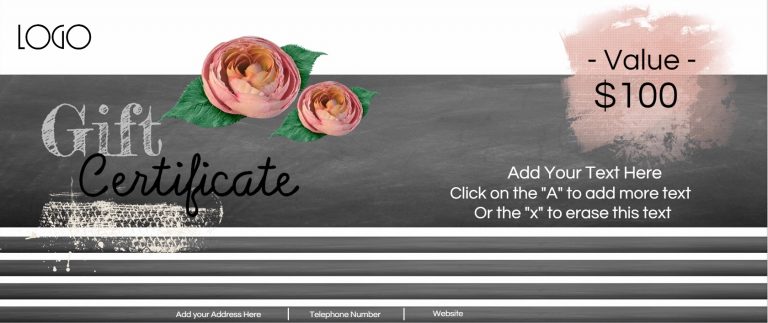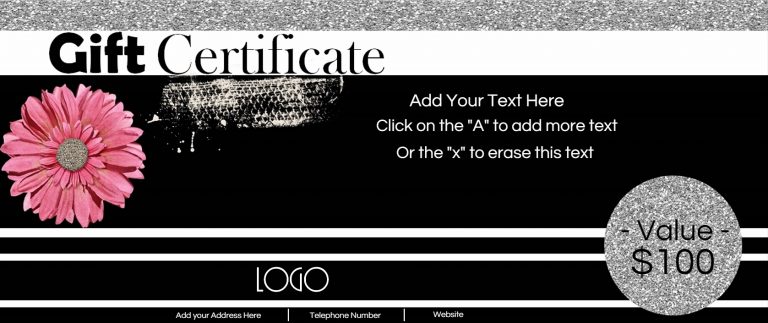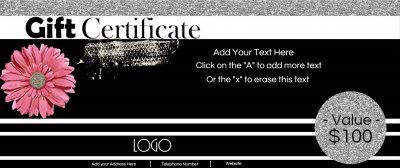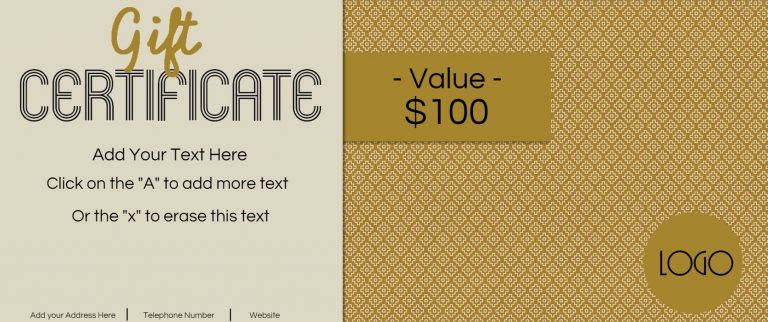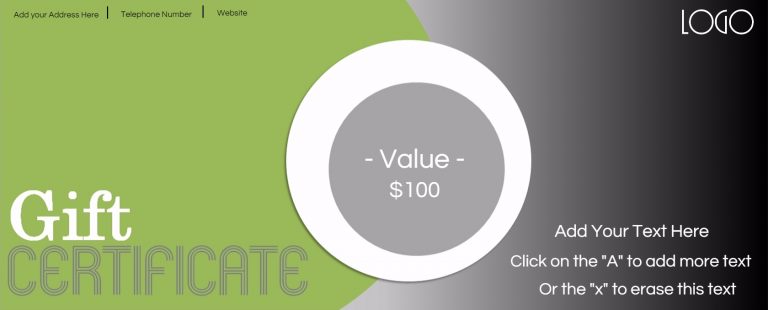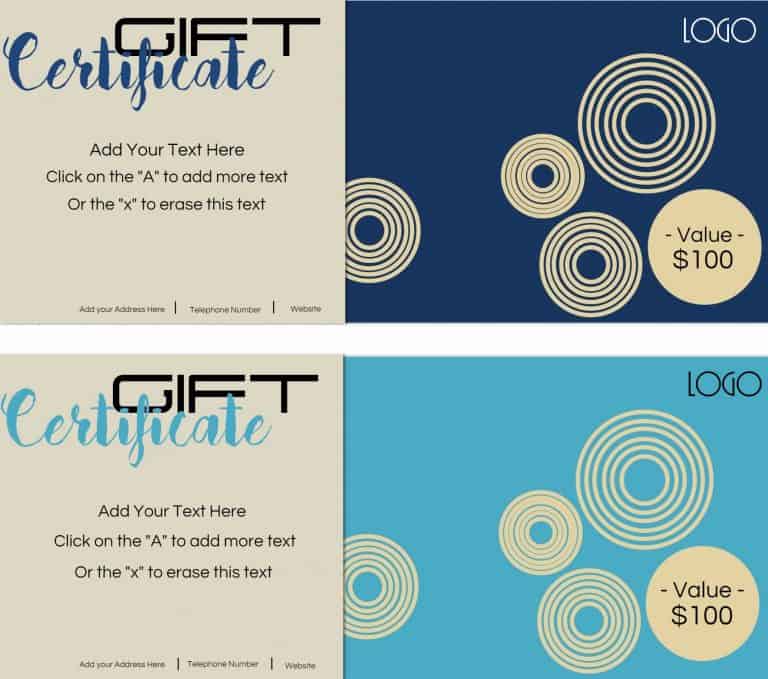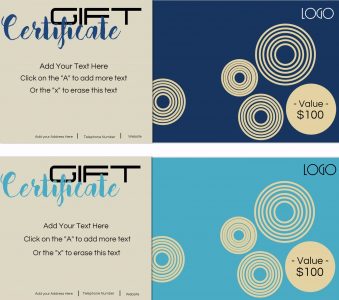 If you don't have a logo, then you can make one with our free logo maker. You can then add it to the template.
How to Create a Gift Certificate
Click on any gift certificate image to open the gift certificate maker.
Edit the text.
Add any additional text if you want.
Add your logo.
Download and print.
Enhance Your Brand with Custom Logo Gift Certificates
Gift certificates are not just presents; they're a reflection of your brand and the quality it represents. With our customizable gift certificate templates featuring your logo, you can create professional and memorable vouchers that promote your business while pleasing your customers.
Elevate Your Gift Certificates
Brand Visibility: Incorporating your logo into the gift certificate design instantly boosts brand recognition. It ensures that your business stays in the mind of the recipient long after the initial exchange.
Professional Appeal: A sleek, well-designed gift certificate adorned with your logo conveys a sense of professionalism and credibility. It assures customers of the high standards and authenticity of your services or products.
Marketing Tool: Gift certificates function as an effective marketing tool. Every time a recipient uses your voucher, it's an opportunity to showcase your brand to a wider audience.
Designing Your Logo Gift Certificates
Customization at its Best: Our templates are fully customizable, allowing you to add your logo and match the color scheme and typography to your brand identity.
Diverse Range: Whether you are looking for something elegant and understated or bold and vibrant, our diverse range of templates ensures you find the perfect match for your business style.
User-Friendly Interface: Our gift certificate maker is intuitive and easy to use, making the design process a breeze, even for those without graphic design experience.
How to Use Your Custom Gift Certificates
Reward Loyal Customers: Show appreciation for your regulars by offering them branded gift certificates as a thank you for their continued patronage.
Attract New Clients: Entice potential customers by providing gift certificates as a welcome offer or as part of a promotional campaign to introduce them to your business.
Corporate Gifting: Impress clients and partners with polished gift certificates that represent your brand's commitment to quality and service.
Seasonal Specials: Use themed gift certificates with your logo for seasonal promotions or special occasions, enhancing the festive spirit and encouraging sales.
Our gift certificate templates with a logo option provide a valuable addition to your marketing and sales strategy. They are not just a gift but a powerful branding opportunity that keeps your business in the limelight. Start creating your custom gift certificates today and make every voucher a part of your customer's experience with your brand.