Hair salon gift certificate template free printable that you can customize online with our free gift certificate maker.
Hair Salon Gift Certificate Template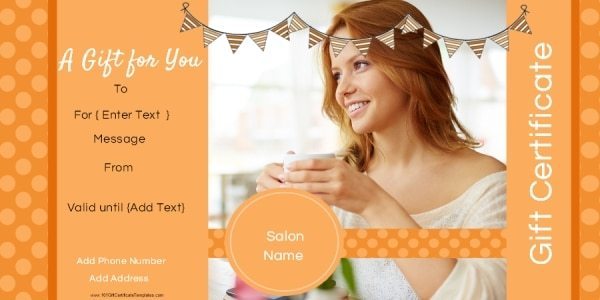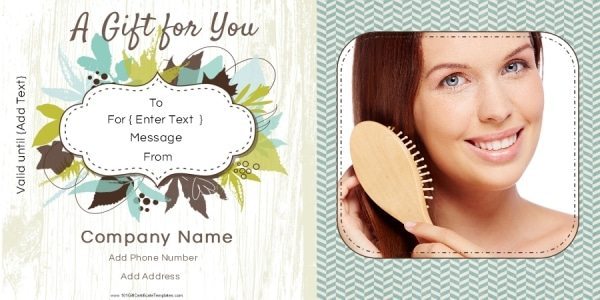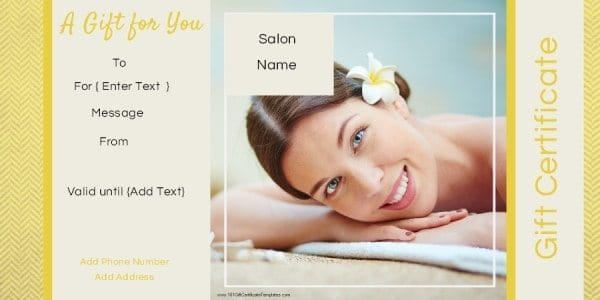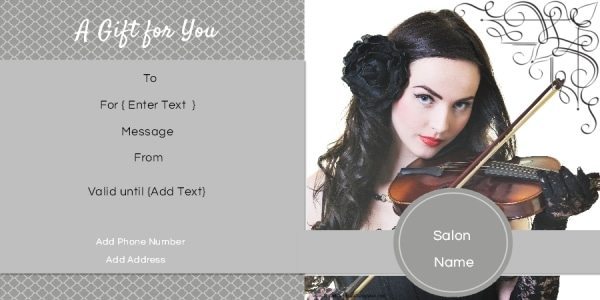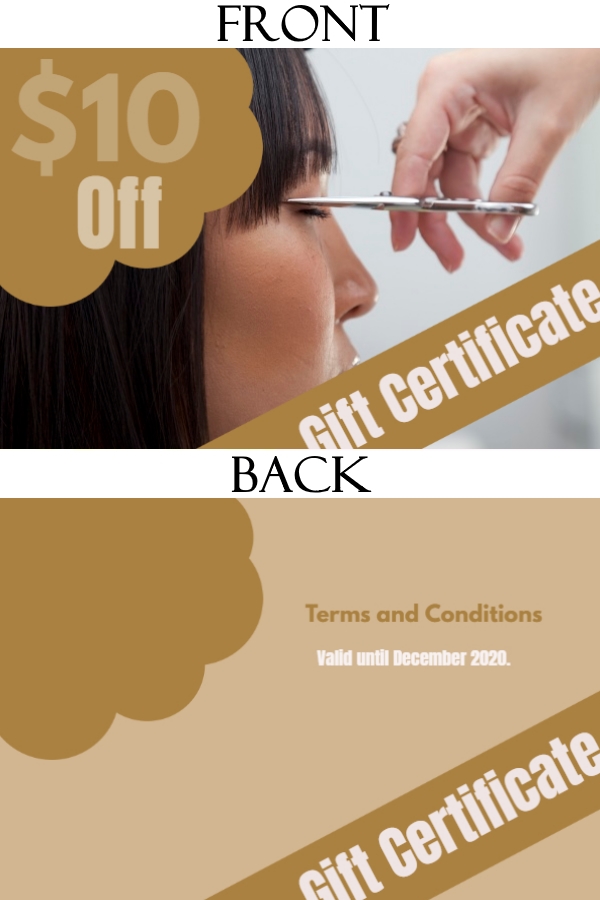 The gift certificate templates above were made for hair salons / hairstylists. Replace the sample photos with your own photos. All of the text can be customized to suit your needs.
If you are not sure how to use gift certificates to promote your business, then please see our tips below.
---
Who can these gift certificate templates be used by?
Hairstylist
Hairdresser
Hair salon
Barber
How can a hair salon use gift vouchers to boost sales and promote business?
Hair salons can leverage gift certificates to increase sales and attract new clients. Here are some effective ways to use gift certificates for sales growth:
Birthday Incentives – send your clients a gift certificate on the first day of their birthday month. Offer either a discount or a special package that can be used that month. Keep a record of your client's birthdays and addresses or email. A week before a client's birthday or on the first day of the birthday month, send a gift certificate in the post or by email. You can either provide a free treatment (such as a free blow-dry) or give them a free treatment when they purchase another one (such as a free blow-dry when they purchase a color treatment or a haircut). Since our gift cards can be personalized you can type each person's name to add that personal touch. You can also change the incentive for each person. You can also use this system for an anniversary.
Quantity discounts – get one treatment free when you purchase a certain number of treatments. Since all of the text can be customized our gift certificate templates can really be used for any purpose. Decide how many treatments the client needs to order and type it on the card. Stamp the card each time the client arrives and give him or her the gift certificate once the client has reached the number of treatments.
Holiday specials – send your clients gift certificates for Christmas, Valentine's Day, or other holidays.
Gift Certificate Promotions: Offer promotions and discounts on gift certificates to encourage customers to purchase them as gifts or for personal use. For example, provide a percentage off the face value, bundle services at a discounted rate, or offer a free add-on service with the purchase of a gift certificate.
Seasonal and Holiday Offers: Create themed gift certificates for specific seasons or holidays, such as Valentine's Day, Mother's Day, or Christmas. Customize the design and messaging to highlight how a salon experience can be a thoughtful and pampering gift during those occasions.
Targeted Marketing: Implement targeted marketing strategies to reach potential customers who may be interested in purchasing salon gift certificates. Utilize social media advertising, email campaigns, collaborations with local businesses, and even influencer partnerships to promote your gift certificates effectively.
Referral Programs: Encourage your existing clients to refer their friends and family by offering incentives. Provide gift certificates as rewards for successful referrals. This not only increases customer loyalty but also generates new business and boosts gift certificate sales.
Add-on Services: Offer add-on services or upgrades that can be combined with the gift certificates. For example, provide discounts or special packages for additional services like hair treatments, deep conditioning, or scalp massages. This encourages customers to spend more and enhances the overall salon experience.
Partnership with Local Businesses: Collaborate with other local businesses, such as fashion boutiques, spas, or wedding planners, to create joint promotions or bundled packages. This can expand your reach and tap into their customer base, increasing the chances of selling more gift certificates.
Gift Certificate Displays: Create eye-catching displays for your gift certificates at the salon reception area or on your website. Use visually appealing designs and showcase the different service options available. Ensure that customers can easily see and access the gift certificates.
Employee Involvement: Encourage your salon staff to promote gift certificates to their clients. Provide incentives or rewards for employees who sell a certain number of gift certificates. Train them to effectively communicate the benefits of gifting salon experiences and the convenience of purchasing gift certificates.
Redemption Process and Follow-up: Ensure a seamless and hassle-free redemption process for customers who use the gift certificates. Train your staff to handle gift certificate redemptions with efficiency and provide exceptional customer service. Follow up with customers after their salon visit to gather feedback and encourage future bookings.
Remember to regularly assess the effectiveness of your gift certificate campaigns by tracking sales and customer feedback. Make adjustments as necessary to optimize your strategies and drive sales growth for your hair salon.