Use our free gift certificate maker to edit any of the gift certificates on this site. Select any free customizable gift certificate template from this site and edit the text. You can also delete the text to create a blank gift certificate if you prefer to add a handwritten message.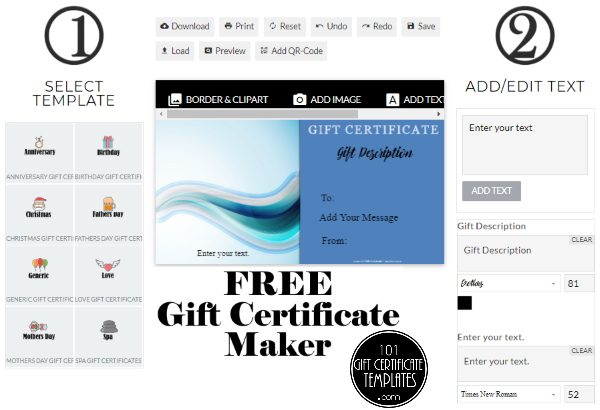 Select Template
There are 101 different gift certificate templates available.
Edit Text
Edit all text. You can also add additional text.
Add Logo
Add your company logo and/or image.
Download
You can save, download or print the gift certificate.
SELECT BY HOLIDAY:
SELECT BY OCCASION:
SELECT BY BUSINESS:
How to Use our Free Gift Certificate Generator
There are two options (depending on how much flexibility you want). You can either select a ready-made template from any of the options on the site or open the online gift certificate generator and select a template from the gallery. If you prefer to edit each element, then open our custom gift certificate maker where you can edit each item on the template or use a template as is. For example, if you are making a gift certificate for a store, you can replace the sample image with a photo of the store or your products.
Step 1: Select a background / template
Open the DIY gift certificate maker, and you will see various backgrounds. If you don't see them, then click on "select background". Select a category and then click on a template. It will then appear on your background.
Step 2: Edit the text and move it around
You can delete the text, add additional text or edit the dummy text. You can also change the font and size.
Step 3: Add a logo (optional)
To add a logo, click on "add image".
Step 4: Add a QR code (optional)
To create a business gift certificate, you might want to add a QR code. To do this, click on the QR code icon and enter your text or URL. You can then move the code to wherever you want it to appear. You can also make it bigger or smaller.
Step 5: Download and print.
Print your custom gift certificates at home or have them printed at your local office supplies store.