Free manicure or pedicure gift certificate template that you can customize online before you download or print. You can also create free nail salon gift cards.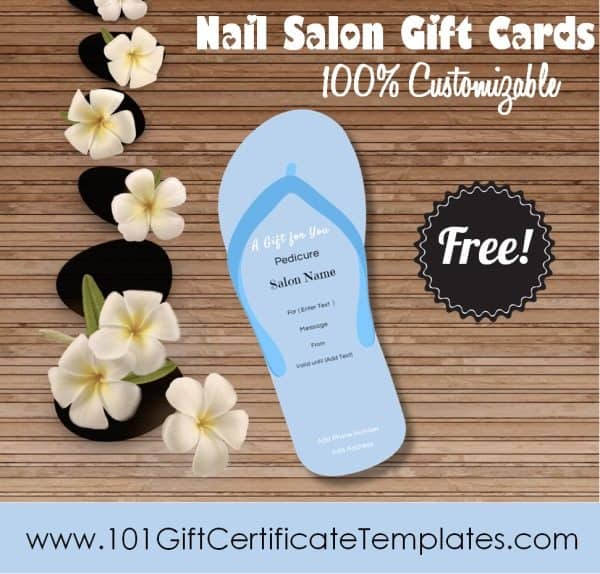 Customize these free nail salon gift certificates with your own text. There are two kinds of gift certificates: one is shaped like a flip-flop and the other is a custom rectangular shape. Once you customize them with our online gift certificate maker, you can print them and cut them out.
Nail Salon Gift Certificate Template Free Printable
Use this nail voucher template free of charge for nail salons or when you give a friend a mani pedi gift. If you make an pre-paid appointment for a friend then this is a good way to add a message or the salon details.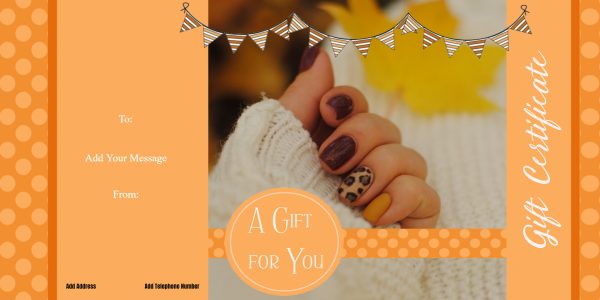 Pedicure gift certificate template free
These templates are great for a pedicure or a mani pedi gift certificate template.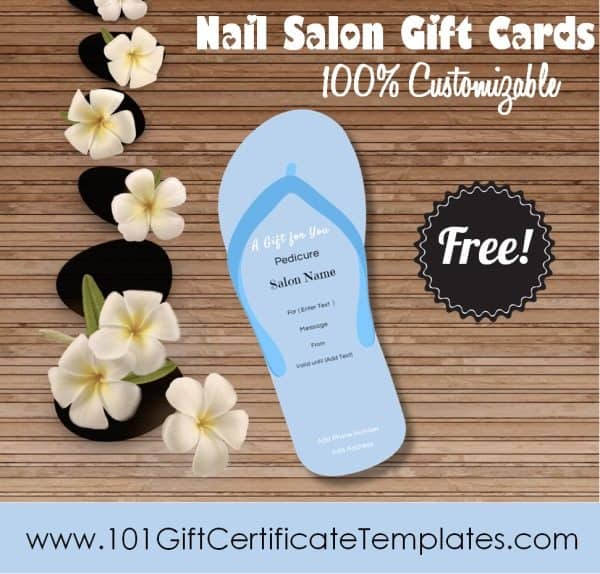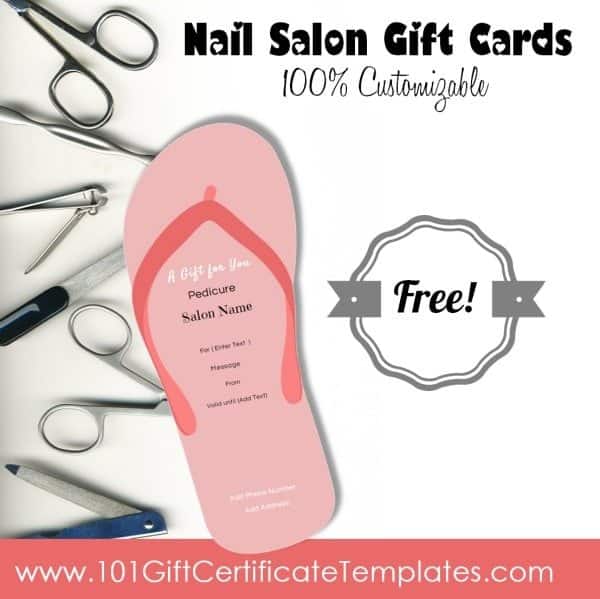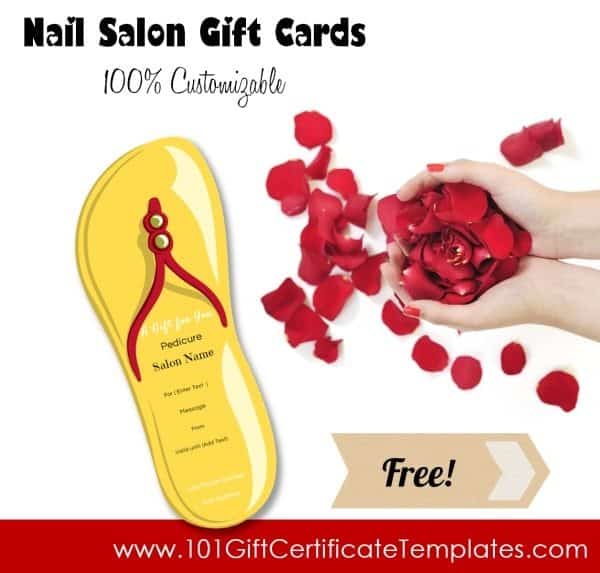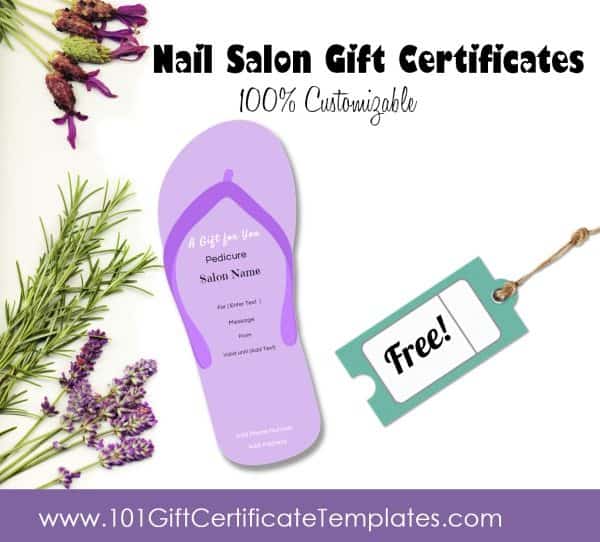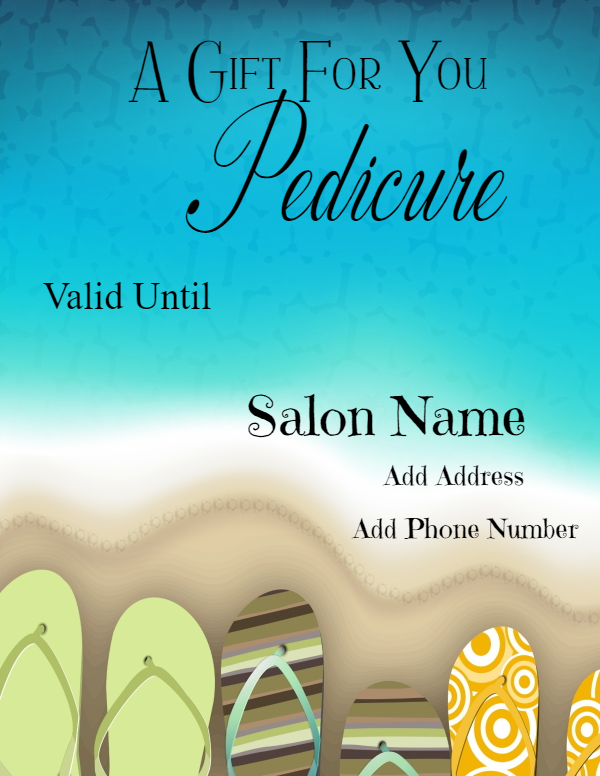 Manicure Voucher

---
How do you make the nail salon gift cards?
Select the gift certificate template you want to use.
Click on customize.
Add your own text or edit existing text. For example, change the title to "pedicure gift certificate" or "gift card" or whatever you would like to appear.
Print on cardstock.
Cut out the gift card.
Since you can customize the text, you can create a pedicure gift card, manicure, and pedicure gift cards or whatever you want the gift to be. Just click on the word "pedicure" and type the text that you would like to appear. You can also add more text to explain what the pedicure includes.
If your salon has a logo, then add it to the template. Click on "add image". If you are adding a logo, then you might not need the salon name as well.
How can you distribute these gift cards?
Print the gift certificate on cardstock and send it to customers by mail or when they visit your salon.
Send customers a virtual gift certificate via email or WhatsApp.
How can a nail salon use gift certificates to increase sales
Gift certificates can be a powerful tool for nail salons to increase sales and attract new clients. Here are some effective strategies for using gift certificates to boost your nail salon's revenue:
Gift Certificate Promotions: Offer special promotions and discounts on gift certificates to incentivize customers to purchase them. For example, provide a percentage off the face value, offer a buy-one-get-one deal, or include a free add-on service with the purchase of a gift certificate.
Seasonal and Holiday Offers: Create themed gift certificates for specific seasons or holidays, such as Valentine's Day, Mother's Day, or the holiday season. Customize the design and messaging to highlight how a nail salon experience can be a perfect gift for self-care or special occasions.
Targeted Marketing: Utilize targeted marketing techniques to reach potential customers who may be interested in purchasing nail salon gift certificates. Utilize social media advertising, email campaigns, collaborations with local businesses, and influencers to promote your gift certificates effectively.
Collaborate with Local Businesses: Partner with other local businesses, such as hair salons, spas, or fashion boutiques, to create joint promotions or bundled packages. For example, offer a spa and nail salon package or a makeover package that includes multiple services. This expands your reach and allows you to tap into their customer base.
Upselling and Add-on Services: Encourage customers to upgrade their gift certificates or add additional services to their nail salon experience. Offer premium packages, enhancements like nail art or gel polish upgrades, or discounted add-on services when combined with the gift certificate purchase.
Referral Programs: Implement a referral program that rewards existing customers for referring new clients. Offer gift certificates as incentives for successful referrals. This not only increases customer loyalty but also generates new business and boosts gift certificate sales.
Gift Certificate Displays: Create eye-catching displays for your gift certificates at the salon reception area or on your website. Use attractive designs and showcase the various service options available. Ensure that customers can easily see and access the gift certificates.
Special Occasion Packages: Develop special occasion packages tailored for events like bridal showers, birthdays, or girls' nights out. Include nail services, refreshments, or additional perks in these packages. Promote them alongside the gift certificates to attract customers looking for unique experiences.
Redemption Process and Follow-up: Ensure a seamless and enjoyable experience for customers redeeming their gift certificates. Train your staff to handle gift certificate redemptions efficiently and provide exceptional customer service during the nail salon visit. Follow up with customers after their visit to gather feedback and encourage repeat business.
Regularly analyze the effectiveness of your gift certificate campaigns by tracking sales and customer feedback. Adjust your strategies as needed to optimize your sales potential and continue attracting new customers to your nail salon.