16 Free Valentine's Day gift certificate templates that you can customize online and give to someone you love. You might also like our free love coupons.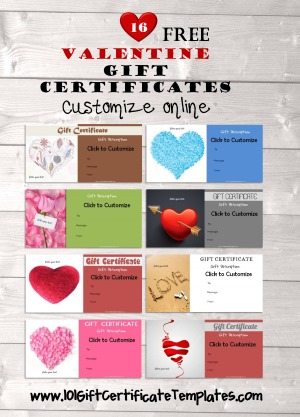 Select the template that you would like to use and click on it to customize it. Use our online gift certificate maker to add your message and gift description before you print the gift certificate. There is no registration required to download or print so the entire process shouldn't take more than 2 minutes of your time.
You can also add a photo of the couple by clicking on "add photo". Some of the gift certificate templates have a photo built-in.  Even if it doesn't you can still add your photos.
The best gifts in life are free!
If you are looking for Valentine's Day spa gift certificates, then please check out the spa section.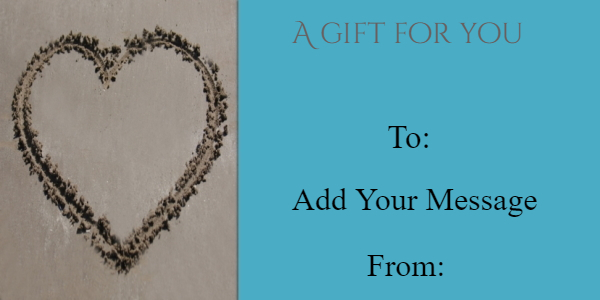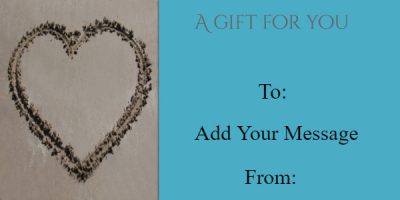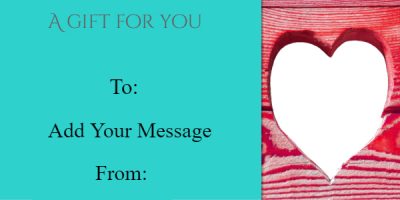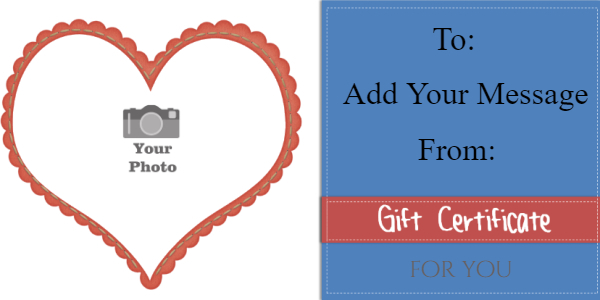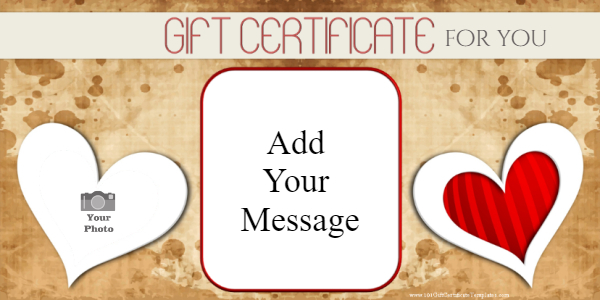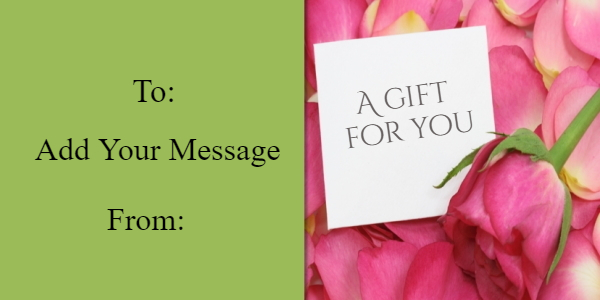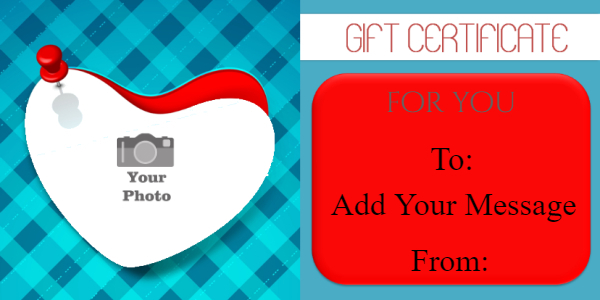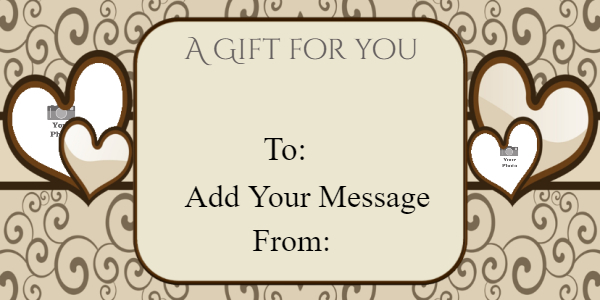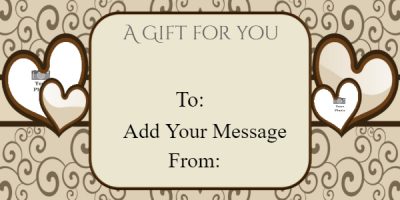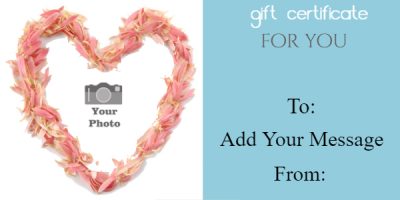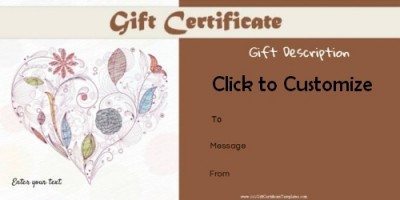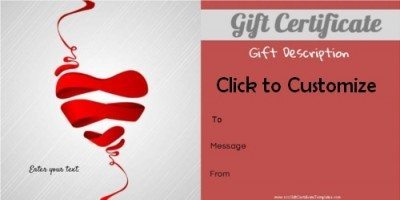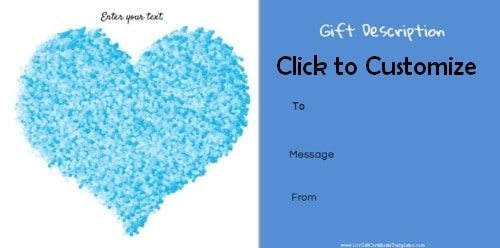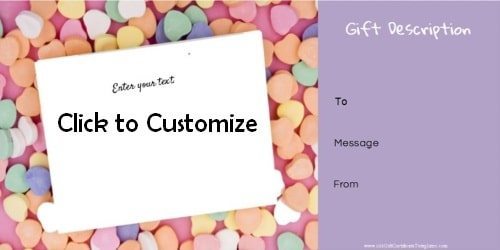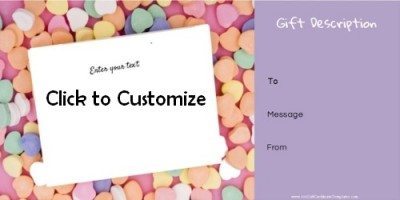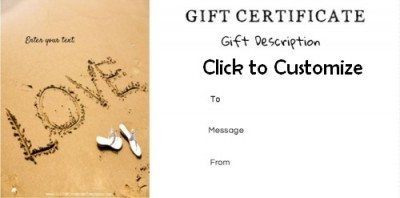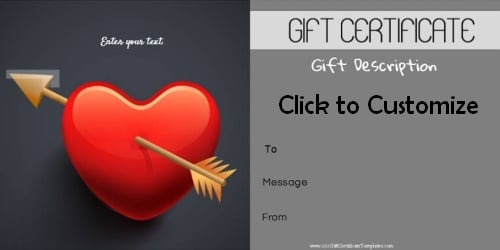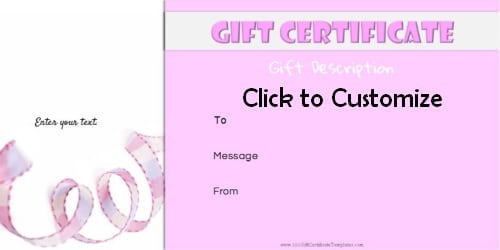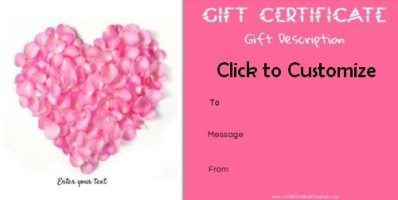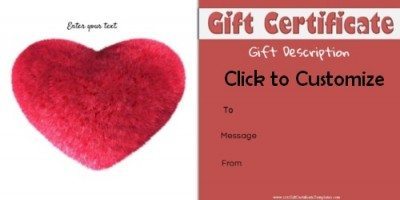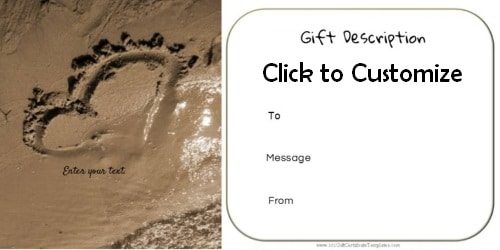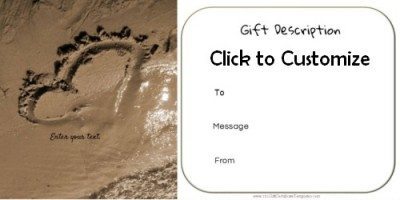 Tip: Print the Valentine's gift certificates on card stock so they look more impressive and professional.
Fun DIY Gifts and Gestures for Valentine's Day
Valentine's Day is a wonderful occasion to show your love and affection with heartfelt DIY gifts and gestures. Here are some fun ideas to inspire you:
Handwritten Love Letters: Write a heartfelt love letter expressing your feelings and appreciation for your partner. Decorate the letter with drawings, doodles, or pressed flowers to make it extra special.
Love Coupon Book: Create a personalized coupon book filled with romantic and thoughtful gestures. Include coupons for activities like a massage, a home-cooked meal, a movie night, or a day of pampering. Your partner can redeem these coupons throughout the year.
Memory Jar: Decorate a glass jar and fill it with small notes containing cherished memories, inside jokes, or reasons why you love your partner. They can pick a note each day and reminisce about your special moments together.
Date Night Jar: Prepare a date night jar by writing down various creative and romantic date ideas on separate pieces of paper. Whenever you're looking for inspiration, you can pick a date idea from the jar and enjoy a memorable experience together.
Love-themed Playlist or Mixtape: Create a personalized playlist or mixtape filled with songs that hold special meaning for you and your partner. Include their favorite songs, songs that remind you of special moments, or romantic tunes to set the mood.
Customized Photo Collage: Collect your favorite photos together and create a personalized photo collage. You can arrange them in the shape of a heart, spell out your initials, or create a timeline showcasing your relationship. Frame it for a lasting keepsake.
Handmade Bath Bombs or Soaps: Make your own bath bombs or soaps using natural ingredients and essential oils. Package them in a decorative box or jar, and add a heartfelt note encouraging your partner to take time for self-care and relaxation.
Love-themed Scavenger Hunt: Set up a fun scavenger hunt with clues leading your partner to various locations or hidden surprises. Each clue can be accompanied by a love note or a small gift, ultimately leading them to a final romantic surprise.
Personalized Coupon Jar: Decorate a jar and fill it with small, handwritten coupons that your partner can redeem. Coupons can include activities like breakfast in bed, a night off from chores, a surprise date, or a favorite home-cooked meal.
Homemade Sweet Treats: Bake delicious and personalized treats for your loved one. It could be heart-shaped cookies, cupcakes with sweet messages, or their favorite dessert. Wrap them in a pretty package for a delightful surprise.
Remember, the most important thing is to tailor your DIY gifts and gestures to your partner's preferences and interests. Show your love and thoughtfulness by putting effort and personal touches into each creation.