Graduation Gift Certificate Template – Free
Make a printable graduation gift certificate template free of charge. Select the template you want to use, customize it online, and print at home. They make great gifts for graduation. Use them as greeting cards to congratulate someone for graduating without a gift.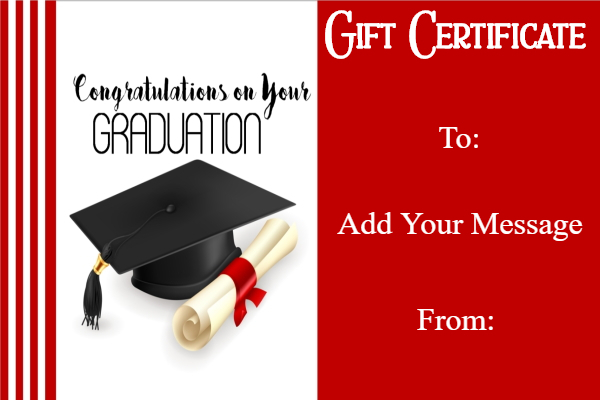 How to turn the gift certificate template into a greeting card?
Select the template that you want to use.
Click on customize to open the gift certificate maker.
Click on "gift certificate" and type a new heading such as "Congratulations". You can also delete the title if you don't want one.
If you didn't find something that you like here, you can try a generic gift certificate template. We have many designs available, and they can all be personalized with your text.
Tip: If you are making a copy for many people, then type the text that will repeat itself on each copy. Replace the text (such as the recipient's name) and then download or print each copy.
If you are making then for an entire class, you can also leave out the recipient's name if you don't have the time.
How to Add a Photo
You can add a photo of the graduation by clicking on the photo icon.
Move the text closer together so that you have space for the photo.