Graduation Gift Certificate Template – Free
Make a printable graduation gift certificate template free of charge. Select the template you want to use, customize it online, and print at home. They make great gifts for graduation. Use them as greeting cards to congratulate someone for graduating without a gift.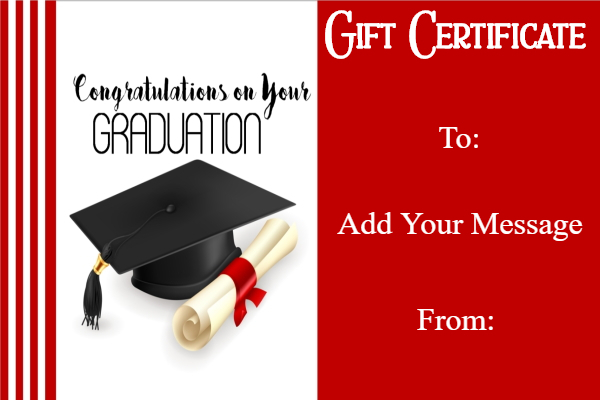 How to turn the gift certificate template into a greeting card?
Select the template that you want to use.
Click on "customize" to open the gift certificate maker.
Click on "gift certificate" and type a new heading such as "Congratulations". You can also delete the title if you don't want one.
If you didn't find something that you like here, you can try a generic gift certificate template. We have many designs available, and they can all be personalized with your text.
Tip: If you are making a copy for many people, then type the text that will repeat itself on each copy. Replace the text (such as the recipient's name) and then download or print each copy.
If you are making them for an entire class, you can also leave out the recipient's name if you don't have the time.
How to Add a Photo
You can add a photo of the graduation by clicking on the photo icon.
Move the text closer together so that you have space for the photo.
How can you use gift certificates for graduation?
Gift certificates can be a practical and thoughtful gift option for graduation. Here's how you can effectively use gift certificates to celebrate someone's graduation:
Choose relevant gift certificates: Consider the recipient's interests, future plans, or specific needs when selecting gift certificates. Think about what would be useful or exciting for them as they embark on the next chapter of their life. Options could include certificates for bookstores, office supply stores, online learning platforms, travel agencies, or even professional attire stores.
Focus on future goals: Graduation marks a significant milestone in a person's life, often signaling the beginning of their professional or academic journey. Select gift certificates that can assist them in pursuing their future goals, such as certifications, workshops, or classes related to their field of study or career aspirations.
Practicality and flexibility: Opt for gift certificates that offer practicality and flexibility. Consider certificates that can be used both online and in physical stores, as this gives the recipient the freedom to choose how and when they want to utilize them. This flexibility allows them to make purchases according to their preferences and needs.
Personalize the presentation: Enhance the presentation of the gift certificate to make it more celebratory. Consider placing it inside a graduation-themed card, a small gift box, or a personalized envelope. You can also include some graduation-themed decorations like confetti or a small graduation cap.
Accompany it with a congratulatory message: Include a heartfelt congratulatory message expressing your pride and admiration for the graduate's accomplishments. Acknowledge their hard work, dedication, and perseverance. Let them know that their achievements are valued and that you believe in their future success.
Consider experiences or services: Graduation can be a time to celebrate and relax. Consider gift certificates for experiences or services that the graduate can enjoy. This can include spa treatments, restaurant vouchers, tickets to a show or concert, or even a weekend getaway. Such experiences can provide a well-deserved break and create lasting memories.
Career-focused resources: For graduates entering the job market or pursuing a specific career, gift certificates for career-related resources can be valuable. This could include resume writing services, career coaching, professional networking events or memberships, or even subscriptions to industry-specific magazines or online platforms.
Support further education: If the graduate is planning to continue their education, gift certificates for books, online courses, or educational resources can be highly beneficial. They can use these certificates to purchase textbooks, access e-learning platforms, or enroll in courses relevant to their academic pursuits.
Allow for personal choices: While it's good to consider the recipient's interests and needs, it's also essential to give them the freedom to choose. Gift certificates allow graduates to select items or experiences that truly resonate with them. This empowers them to make decisions based on their personal preferences and individual goals.
By selecting relevant and thoughtful gift certificates, you can celebrate the graduate's achievements and provide them with resources or experiences that support their future endeavors.