Free massage gift certificate template and spa gift certificate template that you can customize online before you print.

Spa Gift Certificate Template









Massage Gift Certificate Template
Select any DIY massage gift certificate to customize. All the text is customizable. You can also add your own logo if you have one. Create a gift certificate that looks like it was professionally created.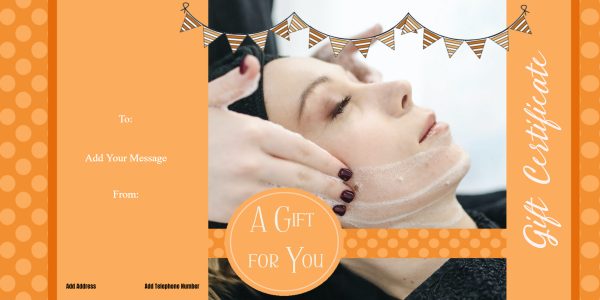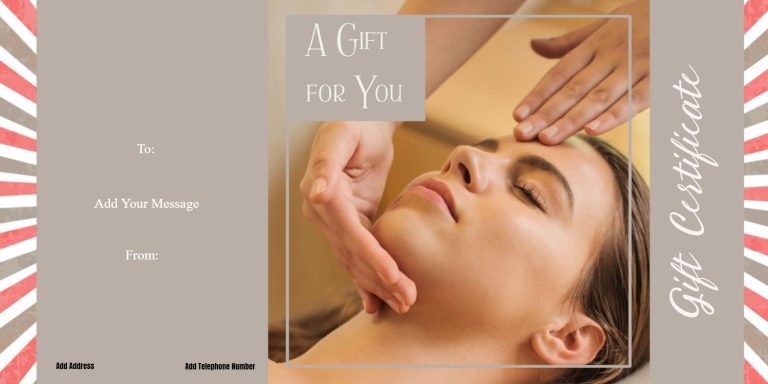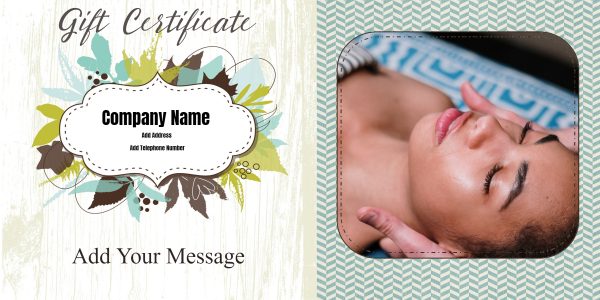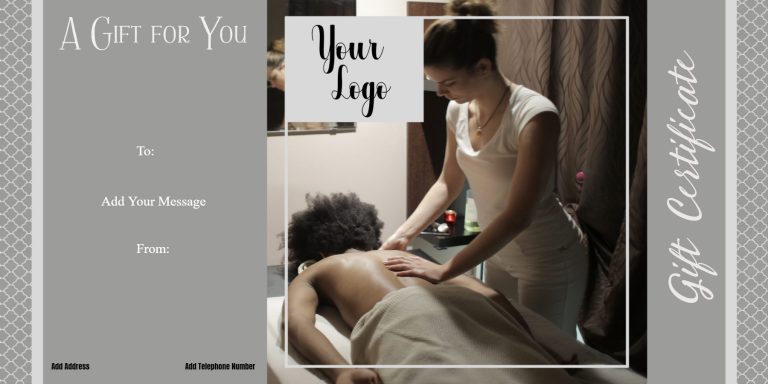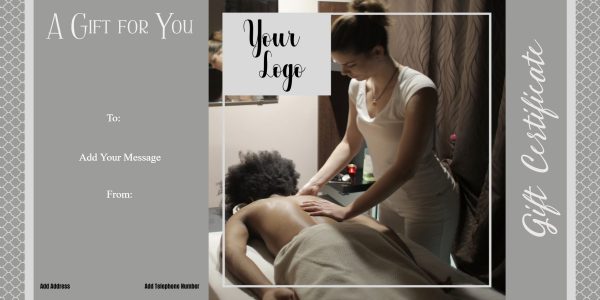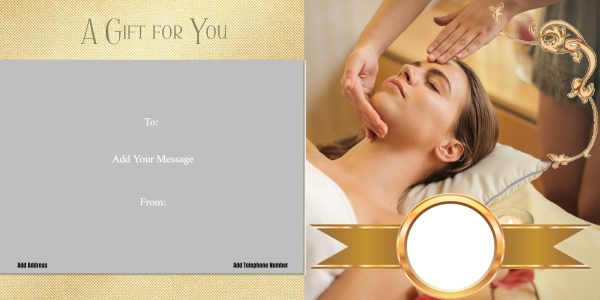 Don't forget to add terms and conditions to the massage coupon template. See voucher terms and conditions template.
Spa gift certificates
Pamper someone special with these free printable gift certificate templates that you can customize according to your needs. Add your text, message, and a description of the gift that the recipient will receive. You can change the text and even add your image/s. If the certificates will be used by a place of business, then you can add your company name and logo.
Once you have customized the template, you can either send it to the recipient by email or print it and give it to him/her. You can print it on standard paper, but it will look more professional if printed on cardstock or quality paper.
Sample Uses for these gift certificate templates
Professional massage therapist or spa
If you are a professional massage therapist or you own your own business, you can sell these gift certificates which can later be redeemed by the recipient. You can add your name or the name of your business. You can also add your company logo if you have one. If you are going to add a company logo then it should be in gif or PNG format with a transparent background. This will create a more professional looking gift voucher. However, if the logo is a rectangular shape then there is no need for the background to be transparent. Select the design that best matches your business color scheme or the one that you like best. Don't forget to add a validity date to ensure that the massage gift certificate template is redeemed by a specific date.
These gift vouchers can be used by businesses related to makeup, beauty (such as for a facial or facials), reflexology, chiropractic, etc.
As a gift to someone you love
Are you are looking for a free gift idea for someone you love? Why not give a spa gift certificate which can be redeemed for a back rub, home spa experience, or a day of spoiling. It is the perfect romantic gift for someone special.
What can these massage gift vouchers be used for?
They can be used for any special occasion or no occasion at all except to let someone know how much you care! Give them to someone celebrating a birthday, anniversary, wedding, or even on Valentine's Day, Mother's Day, or Father's day.
Massage Gift Card
To make a massage gift card select any template from the selection above or from the selection of generic gift certificates. To add a photo of someone having a massage see the directions below.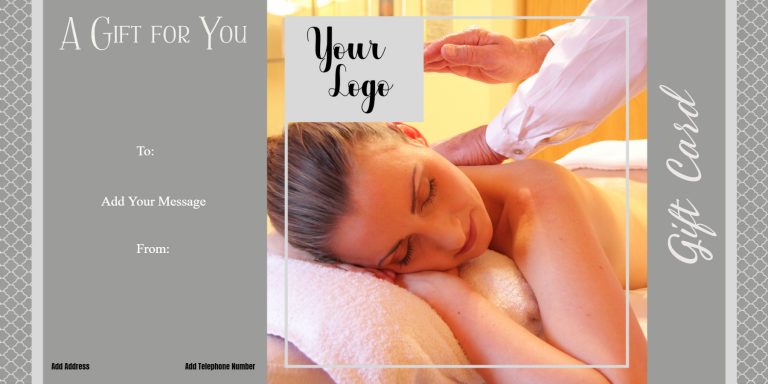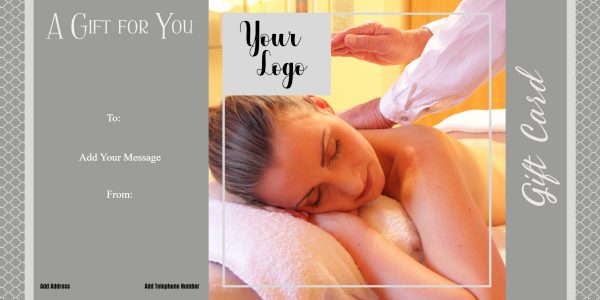 Indulge in Serenity with Spa Gift Certificates
In the hustle of daily life, a moment of relaxation is a cherished gift. Spa gift certificates offer a peaceful escape to tranquility and rejuvenation. Our templates allow you to craft a personal oasis of calm for someone special, providing a thoughtful gesture that encourages well-being and self-care.
The Gift of Relaxation
Choose a Soothing Template: Select from our serene range of spa-themed templates that evoke a sense of peace and luxury. Our designs feature elements of nature, calming colors, and imagery that transport the recipient to a state of relaxation even before their spa experience begins.
Personalize with Care: Add a personal message to your spa gift certificate, expressing your wishes for relaxation or a note of gratitude. Tailor every detail, from the service offered to the design elements, to reflect the recipient's taste.
Seamless Creation and Delivery: Design, customize, and deliver your spa gift certificate with ease. Opt to print it for a tangible gift or send it electronically for a convenient, last-minute surprise.
Crafting Your Spa Gift Certificate
Step into Calm: Start with a template that whispers tranquility and add your custom touches. Whether it's for a birthday, an anniversary, or just because, the gift of a spa day is always in season.
Tailor the Experience: Choose from a range of spa services to include in your gift, such as a massage, facial, or a full day of multiple treatments. Your gift can be as expansive or specific as you wish.
Instant Peace of Mind: No need to worry about gift-wrapping or postage. Our spa gift certificates can be beautifully presented in an envelope or sent through the simplicity of email.
Spa Gift Ideas to Enhance the Certificate:
Aromatherapy Session: Let them indulge in the therapeutic scents and oils that promote relaxation and well-being.
Holistic Healing: Offer a certificate for services like reiki, acupuncture, or a yoga class for a holistic approach to health.
Beauty Treatments: Include a manicure, pedicure, or a hair spa treatment for a touch of pampering.
Detox and Wellness: Add a detox package or a nutritional consultation to encourage a healthy lifestyle.
Couples Spa Day: For a shared experience, provide a gift certificate for a couple's retreat, allowing them to enjoy the spa together.
Our spa gift certificate templates are a gateway to a world of relaxation. They are more than gifts; they are an invitation to unwind, reflect, and rejuvenate. Customize a spa gift certificate today and wrap up an experience of blissful reprieve.
How to Add a Photo to Your Gift Certificate or Gift Card
If the template has a photo click on it to add your own. If it doesn't then click on "Add Photo".
To upload your photo, click on the cloud icon.
To add a photo from the gallery, click on the icon on the right. Type a description in the search box. For example, to create a massage gift certificate, type "massage".
Select an image.
Make the image larger or smaller if necessary. Drag until the position is right.
How can a spa use gift certificates to increase sales
Gift certificates can be a powerful tool for spas to boost sales and attract new clients. Here are some strategies for using gift certificates effectively:
Gift Certificate Promotions: Offer special promotions on gift certificates to entice customers. Consider offering discounts, such as a percentage off the face value, buy-one-get-one-free, or bundled services at a reduced price. These promotions can incentivize customers to purchase gift certificates as gifts or for personal use. For example, when you purchase a spa day, enable the customer to use a voucher to give a free spa day to a friend.
Seasonal and Holiday Offers: Create themed gift certificates for specific seasons or holidays. Customize the design and messaging to align with occasions like Valentine's Day, Mother's Day, or Christmas. Highlight how a spa experience can make a perfect gift for relaxation and self-care during these times.
Targeted Marketing: Utilize targeted marketing techniques to reach potential customers who may be interested in purchasing spa gift certificates. Utilize online advertising, social media campaigns, email newsletters, and collaborations with local businesses to promote your gift certificates effectively.
Partner with Local Businesses: Collaborate with complementary businesses in your area, such as hotels, restaurants, or fitness studios, to create joint promotions or packages. For example, offer a spa and dinner package or a spa and yoga retreat package. This allows you to tap into their customer base and increase exposure for your gift certificates.
Upselling and Add-on Services: Encourage customers to upgrade their gift certificates or add additional services to their spa experience. Offer premium packages, enhancements, or add-on services like massages, facials, or beauty treatments at a discounted rate when combined with the gift certificate purchase.
Referral Programs: Implement a referral program that rewards existing customers for referring new clients. Offer gift certificates as incentives for successful referrals. This can increase customer loyalty, generate new business, and boost gift certificate sales.
Employee Incentives: Motivate your spa staff to promote gift certificates by offering incentives. Encourage them to educate customers about the benefits of spa experiences and the convenience of gifting a spa gift certificate. Consider offering bonuses or rewards to employees who achieve specific sales targets.
Gift Certificate Displays and Packaging: Create visually appealing displays for your gift certificates at your spa reception area or on your website. Invest in attractive packaging or presentation materials to make the gift certificates look more appealing and gift-worthy.
Seamless Redemption Process: Ensure that the process of redeeming gift certificates is straightforward and convenient for customers. Train your staff to handle gift certificate redemptions efficiently and provide excellent customer service during the spa experience.
Regularly analyze the effectiveness of your gift certificate campaigns by tracking sales and customer feedback. Adjust your strategies based on the results to optimize your sales potential and customer satisfaction.