Create a Christmas gift certificate template free of charge with our online gift card maker. Personalize it with your text or photos.
Christmas Gift Certificate Template Free
Select any Christmas gift card template below to create last-minute DIY Christmas gifts.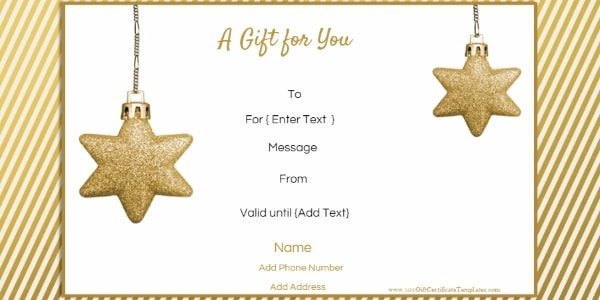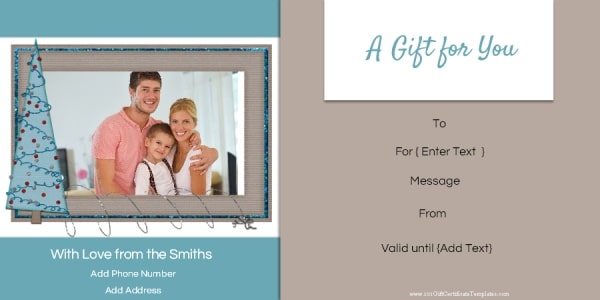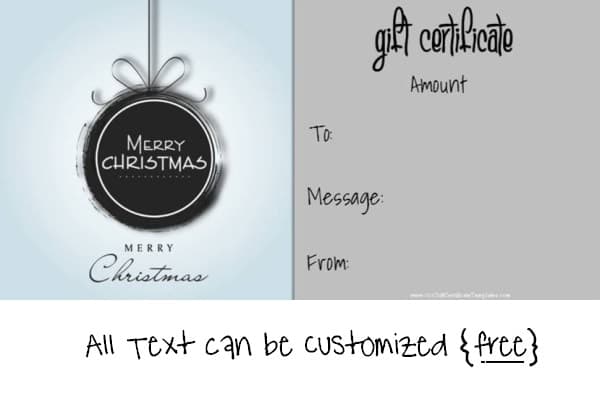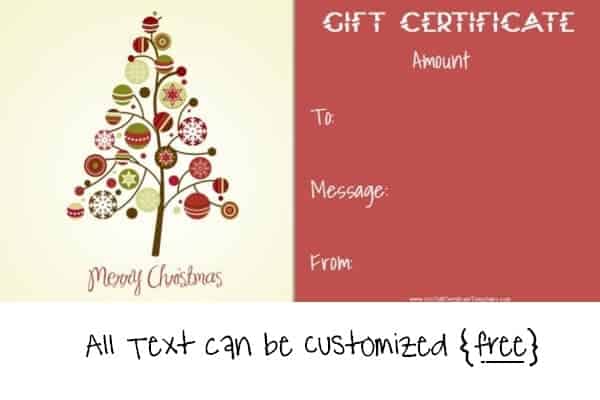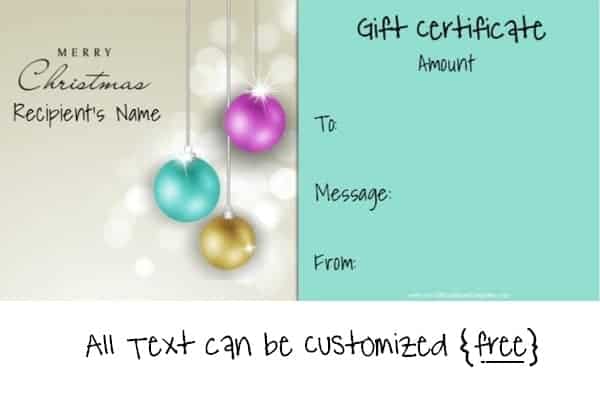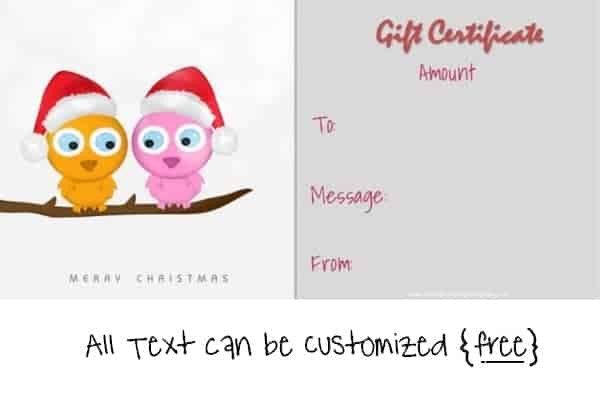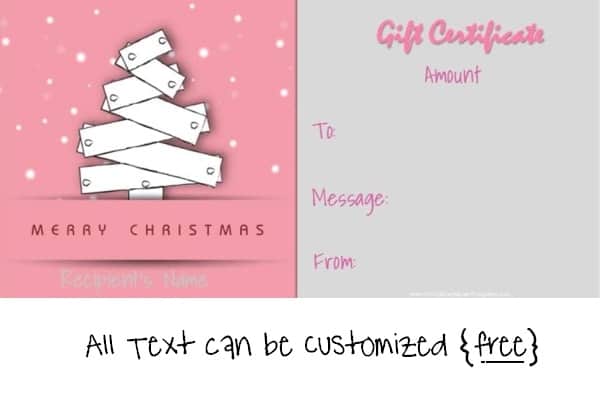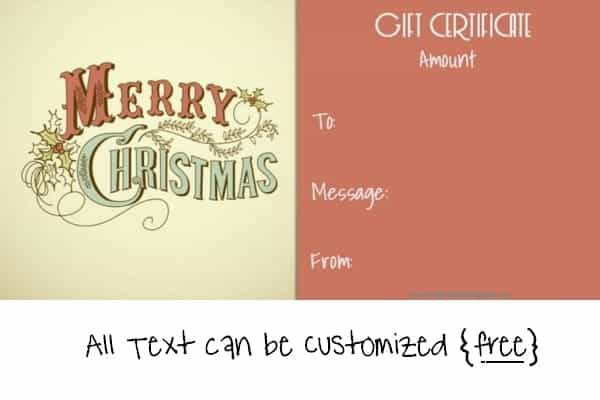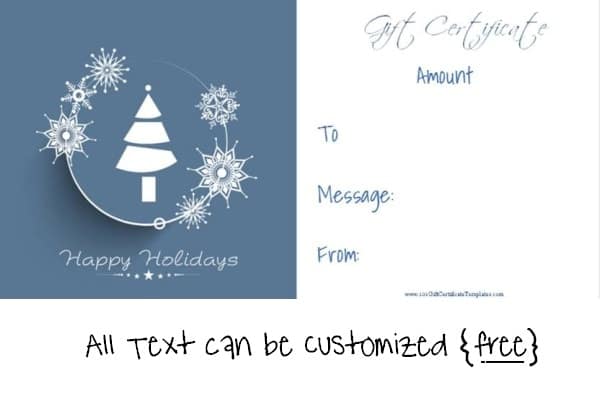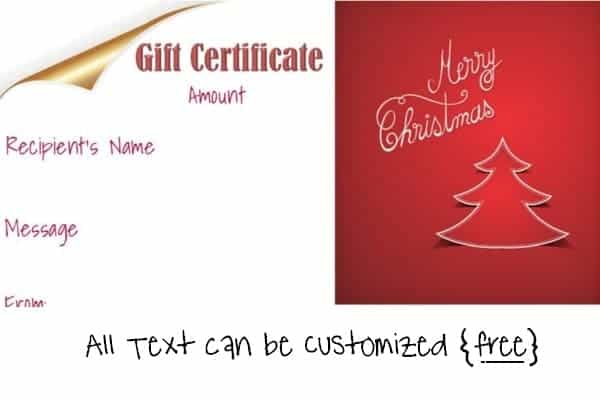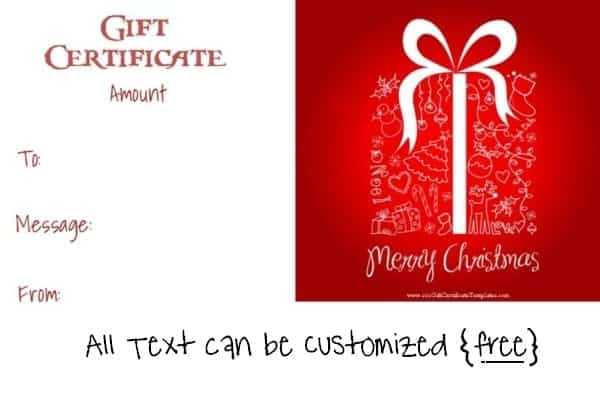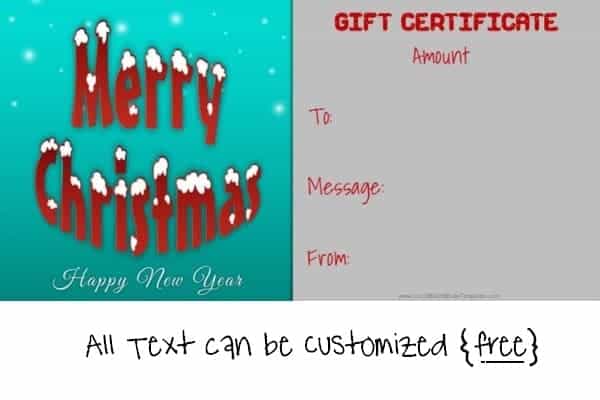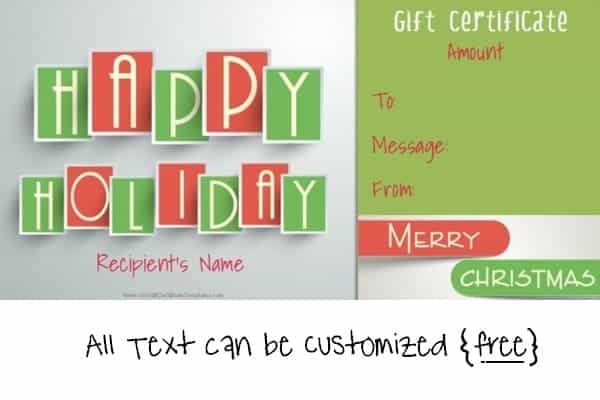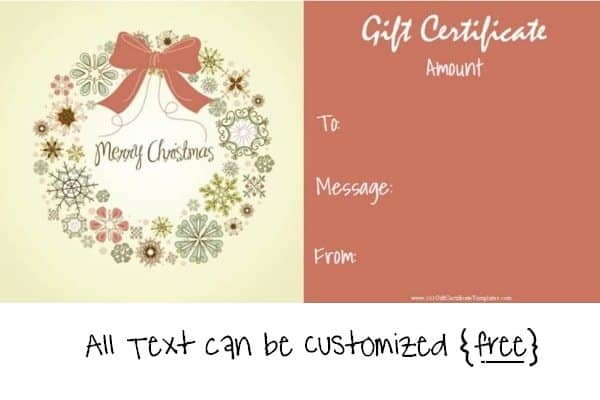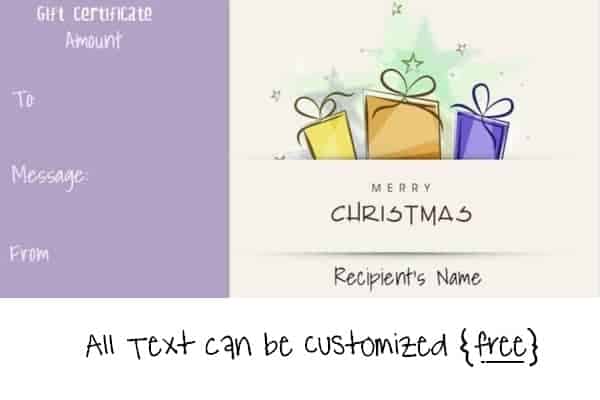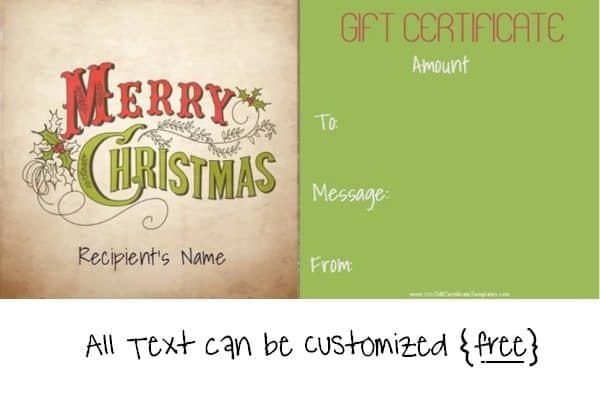 Gift-Shaped Gift Card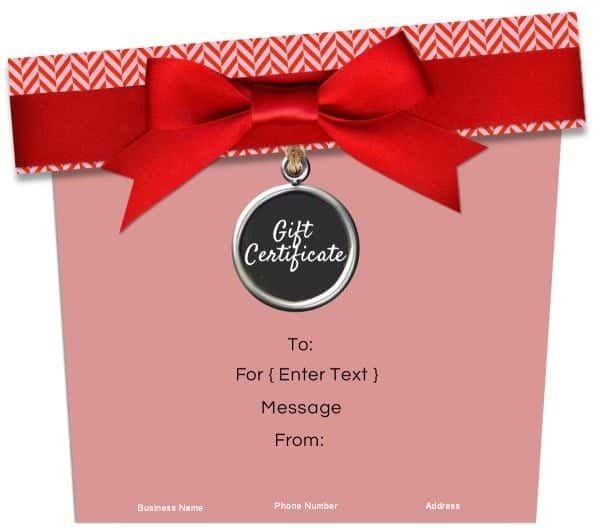 Christmas Coupon Template
You may also like our Christmas coupon templates.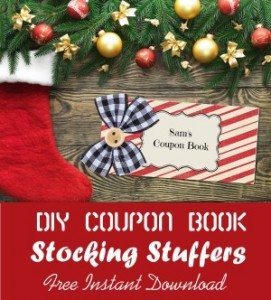 ---
How to Edit the Christmas Voucher Template
Select Christmas gift voucher template from the selection above. There are many different designs available.
Click on the design to choose to open the online designer. You don't need any special software to customize it.
Edit the text.
When you are satisfied, download the gift card.
Either print it or send it by email, WhatsApp, etc.
Benefits of Giving a Christmas Gift Certificates
Giving a gift certificate for Christmas not only makes your life easier but ensures that recipients receive the gift that they want and not the gift that you thought they would want.
Sometimes people are hesitant to give money since it might seem like they didn't go to any trouble to get a gift. Giving a personalized gift card together with cash shows you went that extra mile and didn't give some money to take the "easy way out". It is beneficial for people that are saving to buy something expensive or saving toward a trip. It enables you to help them achieve their goal, which is something they might want more than any gift you can give.
Some people don't have space to store any more gifts and might want something like a spa day or something that doesn't need to be stored. Giving cash or a gift certificate is a perfect solution.
DIY Last Minute Christmas Gifts
Forgot to buy someone a Christmas gift or simply didn't have time? These Christmas gift certificates make excellent DIY last-minute Christmas gifts that you can make in under a minute. Customize a gift certificate template or coupon book and then print. If you have cardstock or heavier paper, then print on it to upgrade your gift. Cut it out and your personalized DIY Christmas gift is ready. Nobody will know it was the last minute or took only a minute to make!
Tips
Using gift certificates for Christmas is a great way to give thoughtful presents while allowing the recipients to choose something they truly want or need. Here's how you can make the most of gift certificates during the holiday season:
Choose the right gift certificates: Select gift certificates that align with the recipients' interests, hobbies, or favorite stores. Consider their preferences, such as a specific restaurant, clothing brand, bookstore, or online retailer. This personal touch ensures the gift is tailored to their tastes.
Purchase or create the gift certificates: You can obtain gift certificates from various sources. Some options include purchasing them directly from the intended store or restaurant, buying them online from reputable retailers, or even creating your own using templates or digital tools.
Present the gift certificates creatively: Enhance the presentation of the gift certificates to make them more exciting to receive. Instead of simply handing over the gift certificate, consider placing it inside a small gift box, enveloping it with festive wrapping paper, or incorporating it into a themed gift basket.
Include a heartfelt note: To personalize the gift, write a heartfelt note explaining why you chose the gift certificate for the recipient. Express your good wishes, share a memory, or highlight the reasons you thought they would enjoy the particular store or experience. It adds a meaningful touch to the gift.
Offer suggestions: If you have specific ideas in mind or want to guide the recipients, you can include a list of recommendations with the gift certificate. For example, if it's a bookstore gift certificate, you can mention some best-selling books or popular authors. This can provide inspiration while still allowing them to make their own choices.
Consider group gifts: If you're giving gift certificates to a group of people, consider pooling funds to purchase a higher-value certificate. This allows the recipients to enjoy a shared experience, such as a dinner at a nice restaurant or a weekend getaway, providing a memorable and enjoyable Christmas gift.
Online and e-gift certificates: In the digital age, online and e-gift certificates have become increasingly popular. You can easily purchase them from various websites or directly from retailers. E-gift certificates can be emailed directly to the recipient, making them a convenient and eco-friendly option.
Follow up and check-in: After Christmas, follow up with the recipients to see what they chose with their gift certificates. It shows your genuine interest and allows you to share in their excitement. It's also an opportunity to learn more about their preferences for future gift-giving occasions.
By using gift certificates creatively and thoughtfully, you can make Christmas gifting more enjoyable for both the giver and the recipient.