Mother's Day coupon ideas to create free printable DIY coupons for mom for Mother's Day or for her birthday.
Free DIY Coupons for Mom
We offer a homemade coupon book for mom template to create a DIY gift for mom that she will simply love! There are many colors and designs available or you can print in black and white on colored paper.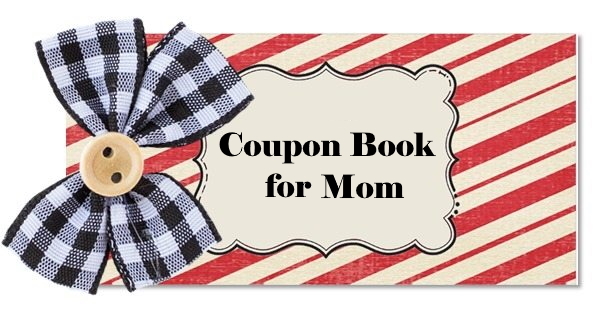 We offer free coupon template printables in various colors (or black and white if you don't want to print in color or want to print on colored paper). You can also make a coupon book for mom if you print a coupon book cover as well.
The coupon template above has some coupon ideas for mom but you can edit the text to change or to add more options. See more coupon ideas for mom below.
If you need ideas for your mother's day coupon book then see the list below.
Mother's Day Coupon Ideas
Need the ideal DIY gift for moms on Mother's Day? How about a coupon book with a list of tasks to do for your mom?
Mothers often work hard all day. A thoughtful gift would go a long way to appreciate their effort. Nothing shouts thoughtful than a coupon full of tasks to relieve her.
We have curated a list that includes easy and affordable activities. These will have your mom take a break from all the menial work that comes with being a mom.
Coupon Ideas for Mom
[1] A day of sleeping in
All mothers want as a gift for Mother's Day is to get a night of uninterrupted sleep. Even better, the chance to sleep in. So why not bring this wish to reality by including it in your homemade coupon ideas? I bet she'll be thrilled by it!
[2] A foot massage
Moms are often stressed out from all the hats they have to wear around the house. A foot massage is a great way to relieve this stress. You could either do it, or afford them some time at your favorite massage parlor.
[3] Two loads of laundry
If your mom is anything like most moms, I bet the laundry pile is a nightmare to her. In fact, doing the laundry is a pain to most people.
Then how about including this in your homemade coupon idea? Allow your mom to sigh in relief by choosing to do two loads of laundry for her. These include washing, folding, and putting them away.
[4] A night off dinner
How about allowing your mom to take a break from preparing dinner? Instead, take her out for dinner. There are numerous places you can go to that will cater to her needs while making her feel special for the super mom she is.
[5]Breakfast in bed
No mom could say no to the opportunity of waking up to the sound of brewing coffee while her family members cook up a delicious meal for her in the kitchen.
Bring this idea to reality by including it in your homemade coupon idea for Mother's Day and allow her to have a special morning.
[6] Kitchen clean up
Keeping the kitchen clean is usually a daily struggle for moms. They juggle between feeding their family, making homemade meals, and ensuring that the dishes are clean before the next meal. This is often a recipe for a mess.
For this reason, a great homemade coupon idea for Mother's Day would be to take over the kitchen clean-up and allow her to catch up on her favorite show.
[7] An afternoon of quiet time
A mom's life exists in what seems like chaos. Moms are constantly getting bombarded by the needs of others. While their hearts may mushroom to accommodate everyone, they sure could use some alone time.
An afternoon of quiet time would be a great idea for them to cultivate some peace
[8]Kid's bedroom clean up
We all know about the impossible task of asking the kids to clean their bedrooms. You tell them to clean their rooms. They head to their rooms for a while. They come back and report that it's clean. When you check, their room has registered no improvement.
Well, you could save your mom the stress of cleaning up by doing it for her as part of the Mother's Day coupon book idea.
[9] A coupon of mom's choosing
Instead of forming the list on your own, how about allowing her to have full reign over what she'd want for her coupon book? Your mom is sure to know what would make a huge difference for her special day and make it memorable.
[10] Unlimited hugs
A hug isn't just an embrace. As kids, if we were sad, scared, or wanted to mark a milestone, we'd often result in hugs. Well, mom would also want unlimited hugs as a sign of appreciation for all the heroic moves she makes at home.
More coupon Book Ideas
One back rub
One huge hug
One hour of quiet time
One car wash
One day of no fighting
One day of no bickering
Walk the family pet
Change the sheets on all beds
Coffee in bed
Tea in bed
Create your homemade coupon book by including any of these gift ideas and make Mothers' Day special for your mom.
Homemade coupons are a thoughtful way of appreciating friends and family. Including activities that are often backbreaking often goes a long way in showing love. Giving your mom a homemade coupon for Mother's Day will go to show the amount of love you have for her.