Free Printable and Editable Love Coupons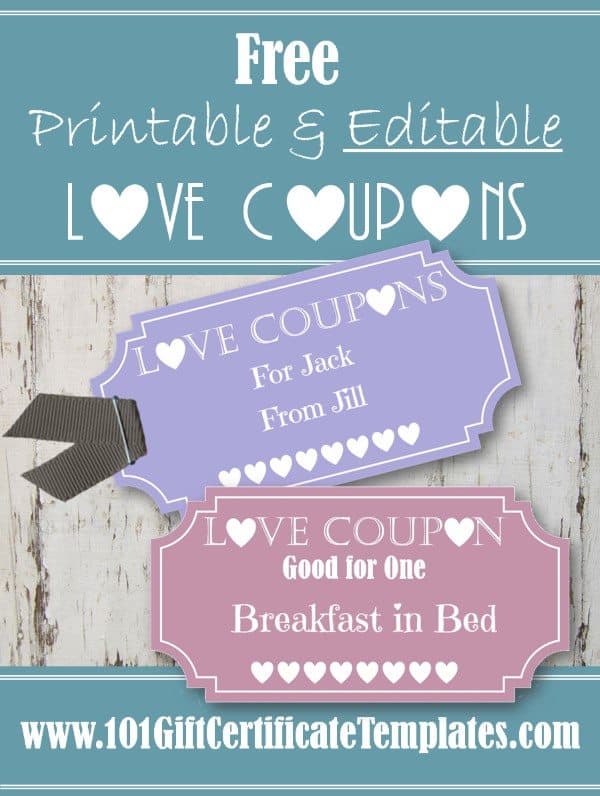 How to Make a Coupon Book for Boyfriend, Girlfriend, Husband or Wife
Step 1: Make a Cover for the Coupon Book.
Step 2: Edit the Love Coupons.
Decide what you want to write on your love coupons for him or her (see ideas below). You can make as many coupons as you want. There are four on each page.
Click on the colors that you want to use. You can mix and match the colors or make them all the same color.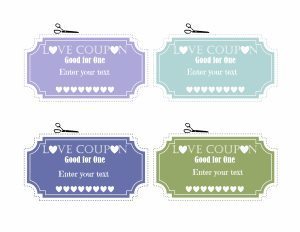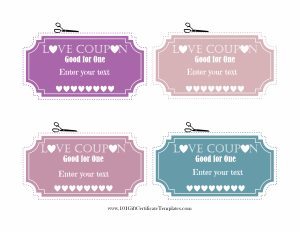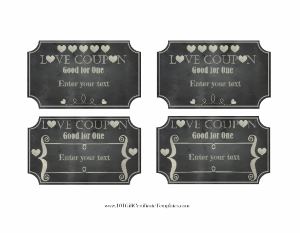 Step 3: Print.
Step 4: Cut out each love coupon.
Step 5: Bind them together to create a coupon book. Punch a hole in the left side of each coupon. Try to punch a few at a time to ensure that the holes are in the same place. Tie them together with a pretty ribbon.
Love Coupon Ideas
Each love coupon is editable so that you can decide what you want to give the recipient. You know what he / she will like but here are some ideas:
Back rub
Massage
Home cooked meal
No chores all day
No arguing all day
Breakfast in bed
Afternoon nap
Sleep late without disturbances
Movie of your choice
Dinner of your choice
Meal at favorite restaurant
Control of the remote
Weekend getaway
Cuddle time
Shopping spree
Romantic picnic
Sex coupons (we won't give you sex coupon ideas but you know what your spouse likes).
Love Coupons for Him
Since these love coupons are totally customizable they are perfect to create love coupons for him. You can select choose the black or blue & green coupon template. Fill in gives that you think he will enjoy and create a coupon book for him.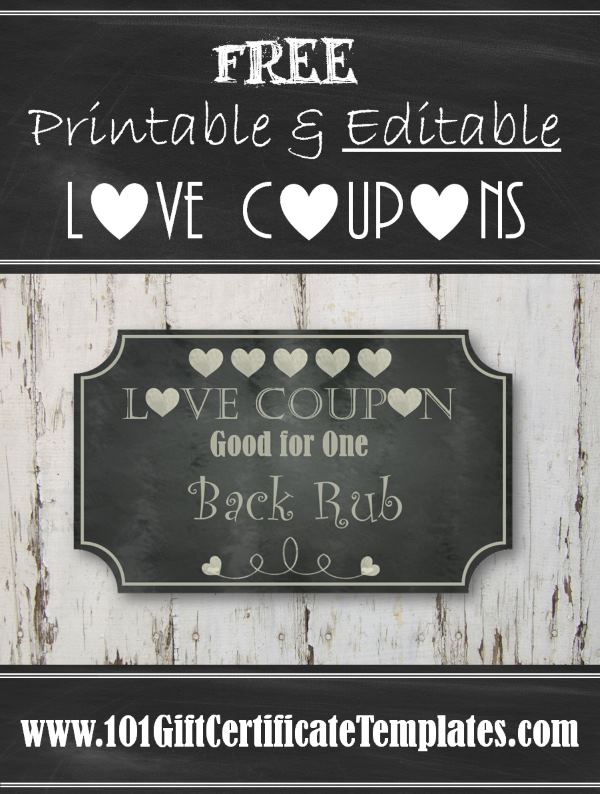 A coupon book is a great gift that doesn't cost anything to make (besides the ink and paper). You can make it for any occasion during the year or as Valentines Day coupons before Valentines Day.